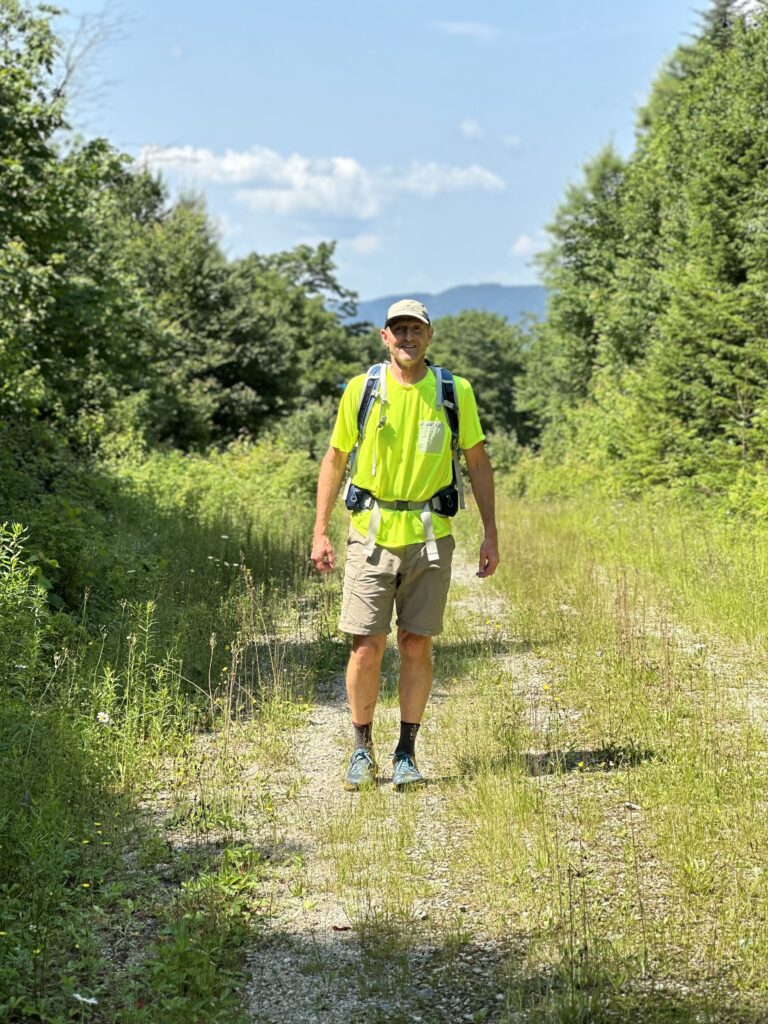 48 Mountains is the name of Chapter 35 in EVERY DAY IS A FIELD TRIP. The funny thing is, I never intended on hiking the New Hampshire 48 peaks over 4,000 feet list.
When I had too many concussions to keep playing basketball and other contact sports, I needed to find something else to stay in shape. I agreed to hike Mt. Eisenhower on a beautiful October day in 2016, when I went up to visit my Mom and two siblings at my Mom's timeshare in the spectacular White Mountains.
I showed up to hike that day with my kids' school backpack, a pair of Nike cross training sneakers, a bottle of water and maybe a snack or two, totally unprepared.
It took me until September of 2017 to get back to the White Mountains with my friend Gregg to hike Mt. Pierce and Mt. Jackson. This began my training on how to be prepared for hikes in the White Mountains. Gregg, along with my brother Scott, and friend Mark are guys who were Boy Scouts when they were young. They had learned about being prepared in the mountains. With knowledge at hand I set out to complete the list.
So what happens when you complete one list? Of course you start on another list especially when the NH48 is already part of the list.
Next Up: 67 Mountains
The New England 67, are the mountains in New England over 4,000 feet. In addition to the 48 peaks in New Hampshire over 4,000 feet there are 5 in Vermont and 14 in Maine. Since I had already been up Katahdin (Maine's tallest peak) many times, and had gone up Came'ls Hump (Vermont), I said what the heck. My friend Mark and I committed to getting it done. 
To me each state is a little different, sure they are mountains, filled with beautiful forests. They are all unique in their own way. Vermont lives up to its name, Green Mountain State. Maine feels a little more rugged to me, not as many people and more remote.
In Vermont we enjoyed Killington, Mt. Ellen, Mt. Abraham and Mt. Mansfield where I finished the NE67 list.
Maine brought us Old Speck which we enjoyed in the snow, The Peaks on the Appalachian Trail and nearby peaks of Saddleback, The Horn, South Crocker, North Crocker, Reddington, Sugarloaf, Spaulding, Abraham, Bigelow Avery, & Bigelow West. Along with Katahdin's peaks Baxter and Hamlin.
Hiking 100 mountains involves some really cool places, lots of risk, tons of preparation, many hours with hiking friends, varying weather conditions, lots of views, wildlife, and decisions galore.
Baxter State Park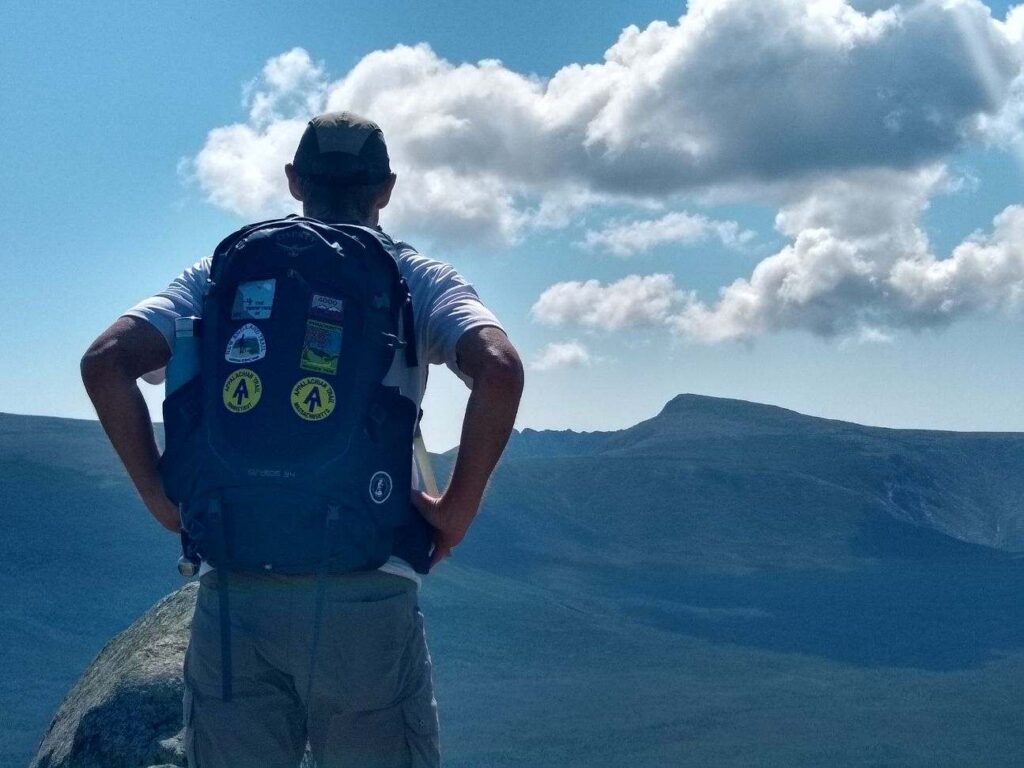 Baxter State Park is one of those special places. It is just beautiful and has a very famous mountain: Katahdin, is the northern terminus of the Appalachian Trail. From July to October you see many happy faces finishing their 2,190 mile hike from Georgia on this mountain. You will also see Highpointers from across the country trying to stand on the highest point in the state of Maine. Many of these highpointers lament on how difficult this mountain is to hike, with challenging scrambling and trails like Abol, Knife's Edge, and Hunt it is a worthy effort.  
Mainers also love their park leading to the need to secure a permit when hiking or camping. Planning Is definitely required. Baxter is more than just Katahdin and to secure the New England 67 you must also hike North Brother mountain who's trailhead is just down a dirt road from Katahdin
More than Katahdin
Mark and I planned in advance to secure some of the other peaks from the next list (NEHH), while at Baxter. In addition to the beautiful lakes,  ponds, abundant wildlife, great campsites, and hikes for all levels. Baxter has Mt. Coe, South Brother, and Fort Mountain to essentially start our quest for the New England Hundred Highest peaks.
The bare faced steep flat rock face of the Coe slide trail was a fun effort. There was still water on the slide as we made our way up early in the morning. Once we reached the Mt. Coe summit we breezed over to South Brother and peak bagged North Brother. It was a perfect summer day in July. Sitting on North Brother we could look over at the rock faced summit of Fort Mountain. 
Two trail runners wearing running clothes (shorts and tee shirts) left for the bushwhack to Fort moments in front of us, running through the thick conifers. I thought, "cool, I do not need sleeves or pant legs". Within 20 yards I had cuts all over my legs and arms courtesy of the packed forest. A quick stop to put on the sleeves and pant bottoms and we were on our way. This was a great lesson in not following someone else when preparing for your hike. Upon reaching the summit it was wide open and offered incredible views. With these three peaks we were now on our way to joining the NEHH Club.
Green Mountains
To join the NE67 Club I needed to spend some time in the mountains of Vermont. First up was Killington with my hiking partner Nicole. We had such a great day. I still to this day can see the lush green forest where not just the tree canopy was green but all of the underbrush too. It is just a marvelous site. I thought "the Green Mountains truly are green".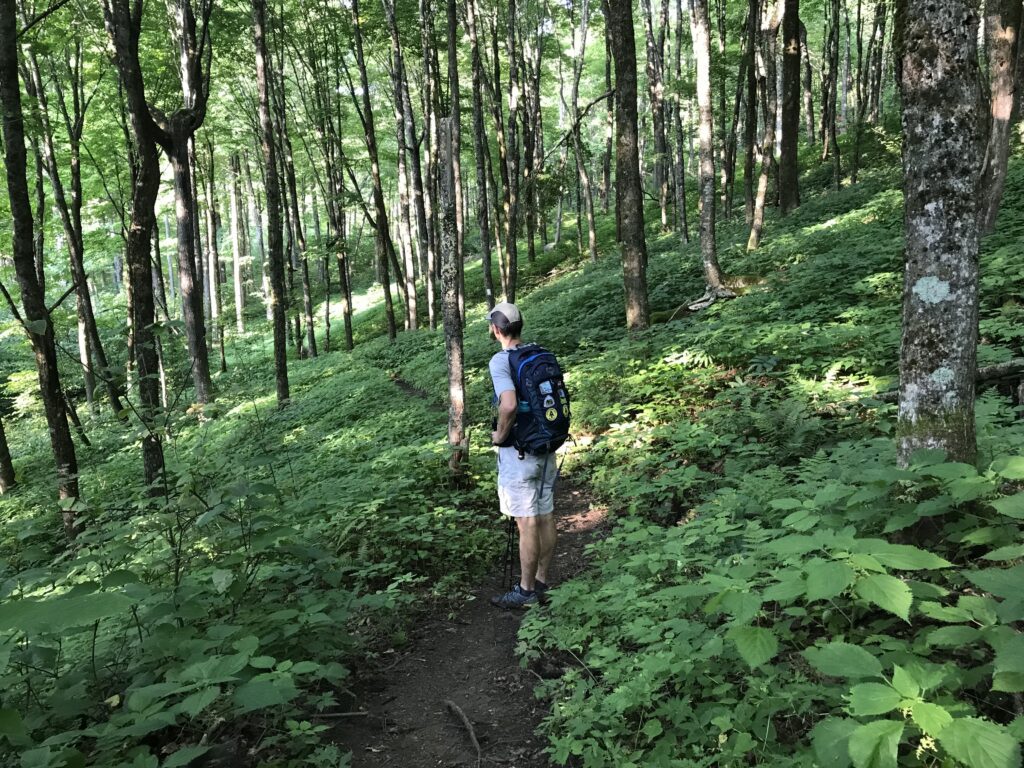 Nicole and I added to the NEHH list by peak bagging Pico Peak. We had some fun hamming it up on the makeshift ski lift seats near the summit.
Next up, hiking between torrential downpours with Mark. We enjoyed hiking over the ski areas of Sugarbush and Mad River Glen on our way to the summits of Mt. Ellen & Mt. Abraham. It felt like a Sound of Music video when going over some of these peaks. It really did!
Two lists down
I finished my NE67 list with a hike up  Mt. Mansfield with my friend and Vermont resident John. Also joining on this hike was Evan, a Highpointing connection from Nebraska. I met Evan and his wife when my son and I were at Illinois Highpoint – Charles Mound. Evan and two of his highpointing buddies were looking to add Mt. Mansfield, the highpoint of Vermont to their list. The views at the top did not disappoint, looking clearly across Lake Champlain and over to the Adirondack mountains to the West, and East all the way to the White Mountains and South to Killington. This hike took place during a perfect fall foliage day and made tackling my final peak of the NE67 a highpoint not just for me but the others too.
Having a jump start on the NEHH list with South Horn, Coe, Fort, Redington, South Brother, Spaulding, The Bulge, The Horn, Cannon Balls, Sandwich, and Pico (from NE67) and with two hiking partners who wanted to complete the list I got going pretty quickly on achieving the goal.
Hiking partners
My quest to the NH48 was mostly a solo quest. Nothing got in my way. While it was great to hike with others this was about getting it done. I cranked through many of these mountains solo. This was a great and learned experience. To be out in the woods alone is something many hikers talk so freely about. But it never starts that way. You kind of find your way to solo hiking. For me it was I had to go whether any one was with me or not.
Mark
It all changed by the time I got to the NE67. I had picked up some pretty special hiking partners. First it was Mark. We coached baseball together and had become friends. He was a runner so I thought he might like trying this activity, so I invited him to join me on a hike. His first hike with me was a very rare 90 plus degree day in the White Mountains on the long trek to Mt. Isolation.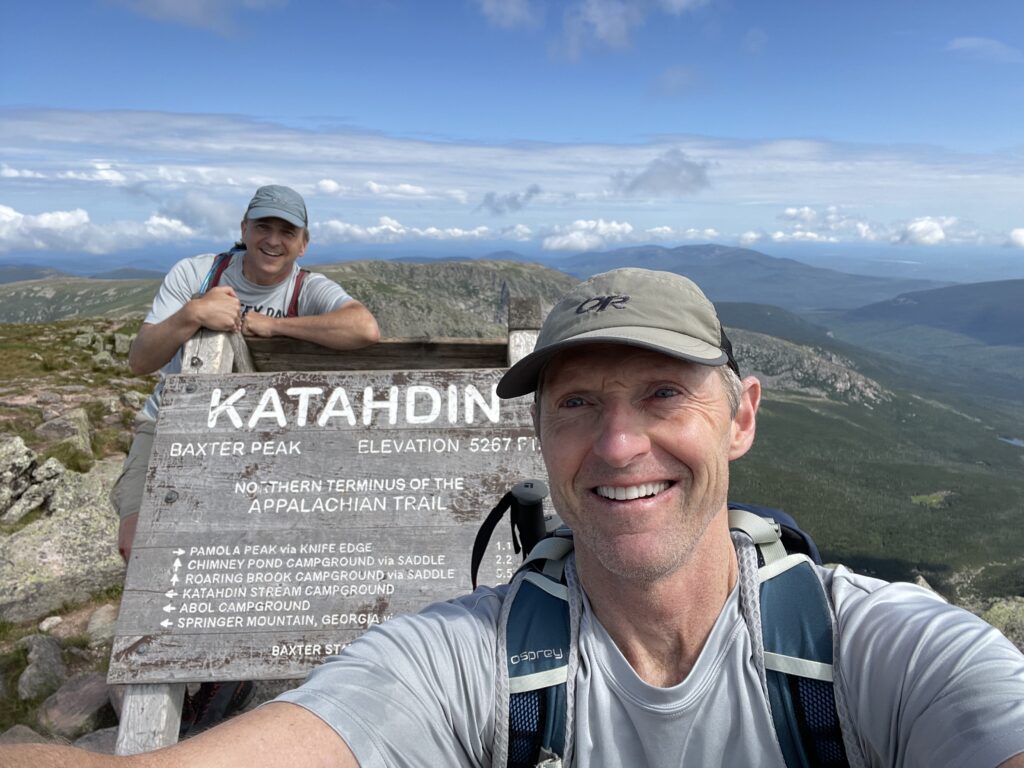 Mark and I are very similar hikers, we move at about the same speed. Sometimes I am faster and sometimes he is faster. As a result, one of us is always pushing the other to speed up. In fact Mark and I completed a one day Presidential Traverse hiking through Mt. Madison, Mt. Adams, Mt. Jefferson, Mt. Washington, Mt. Monroe, Mt. Eisenhauser, Mt. Jackson and Mt. Pierce a 22.5 mile traverse gaining over 9,000 feet in elevation in about 11 hours. It's the push to keep up.
Scott
It was that hike with Scott and Stacy that got me going in the White Mountains. Scott is the perfect big brother hiking partner. He takes all of the squirt brother ribbing that I like to pass out during the hike. In fact he jibes at all I throw at him. Better than that, he hikes with the flow. If it is not his day, he will urge me to keep going. We can meet back at the trailhead or simply at the next car spot.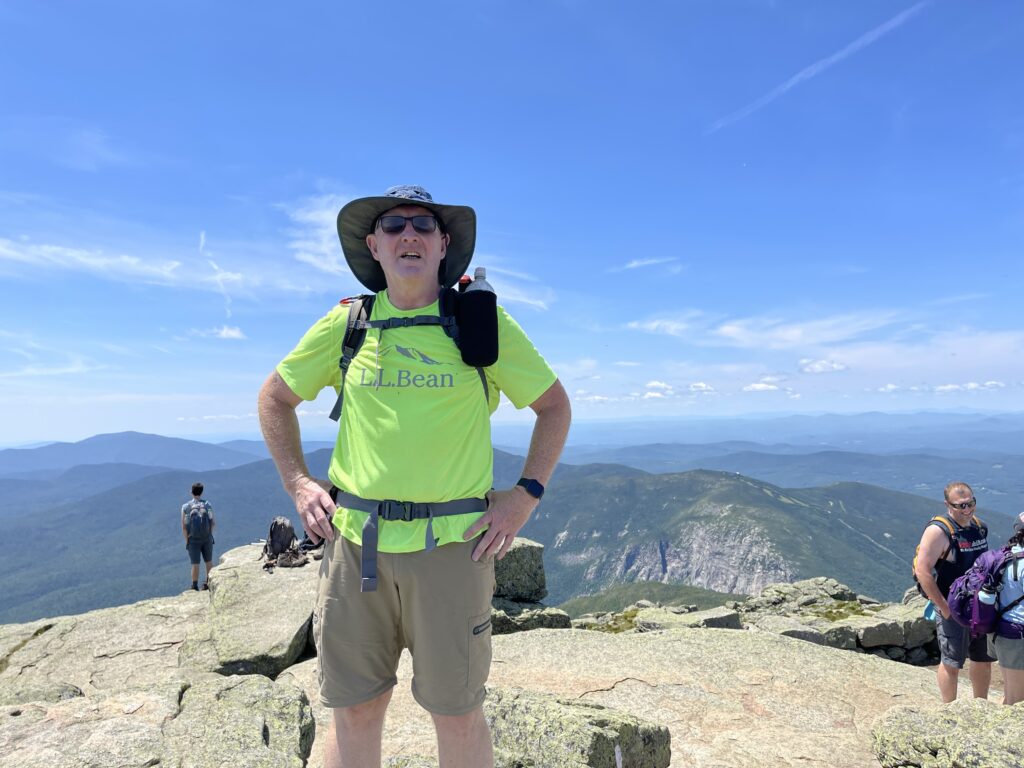 Nicole
I was lucky to meet Nicole when we were both solo winter hiking. We just connected. Although we like to talk about the different worlds we come from, we really see the world similarly. Occasionally, we will have a difference of opinion, which of course leads to great conversation as the trail miles pass away. The greatest thing about Nicole is her absolute love for these mountains, she brings unbridled enthusiasm every time.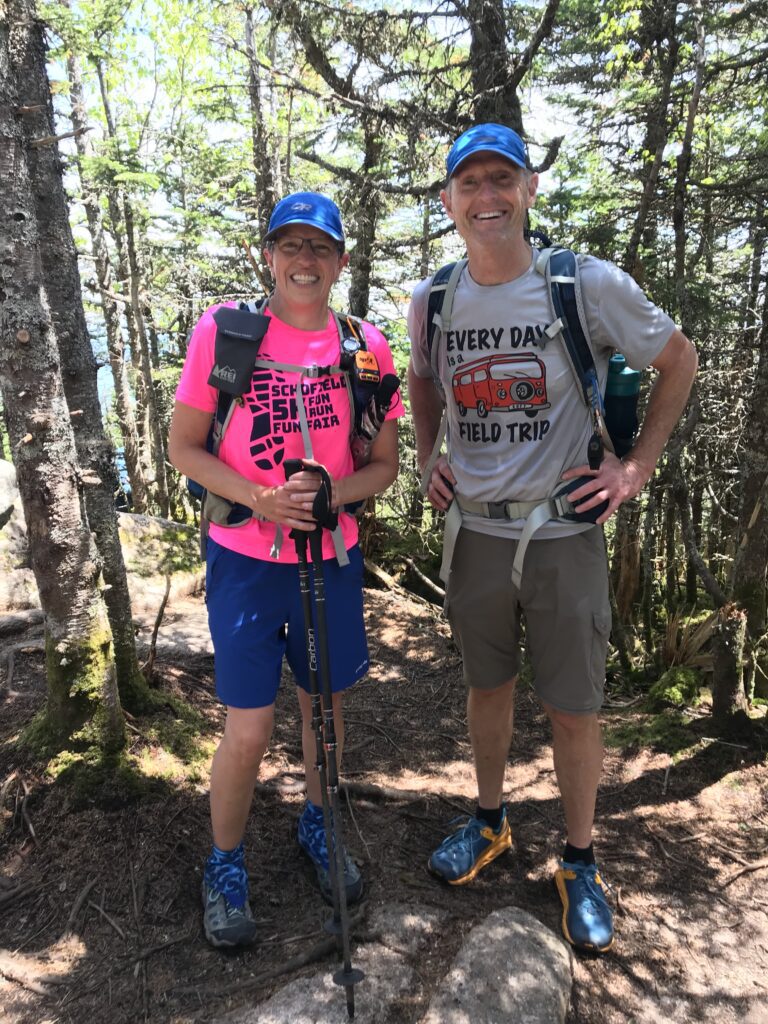 While the NH48 was mainly a solo thing, the 52 additional trails to get to the NEHH were all completed (except for one peak) with one of these three humans on the trail with me. I am a lucky guy.
Vermont
We returned to the Green Mountain State in October of 2021 to climb Stratton and Mendon on a one day trip. Mendon is a trail-less hike, with a somewhat easy herd path to follow. It was great being out on the trail with Mark and Nicole. After breezing up and down Mendon we headed South to Stratton Mountain. 
Stratton is one of my favorite ski resorts, so I was excited to see it from the back side of the mountain from a hiker's view.. We cruised up the trail and met the keeper of the hut at the summit. She was concerned that we had headlamps to get back down safely. We assured her we were prepared that we each had two headlamps and extra batteries for all (quite a difference from my early hikes). We did indeed finish the hike in the dark as the fallen leaves rustled with a crunchy sound beneath our feet.
Wrong turn
Some journeys seem to take forever, with extra miles and what seemed like a week-long hike over one day. A beautiful late autumn hike with a goal of standing on top of North and South Weeks Mountains, fit the bill.
Our story begins when Nicole and I are crushing it and ascend the summits of Starr King, Mt. Waumbeck and South Weeks. We were flying, but stopped to check our GPS, that's when we discovered something was wrong with the GPS, it said we were back near Waumbeck.  Wondering what was going on with our technology, we continued for a bit trying to figure out what was wrong. We finally put two and two together and realized we indeed were back at Mt. Waumbeck. The funny thing here is we were blaming the GPS for being wrong, we fully expected we were heading in the right direction. We turned ourselves around and hiked 2.5 miles in the wrong direction. While not the end of the world, the lesson here was stay calm and make good decisions.
Hiking Forward
Ah, we now have a dilemma on our hands. We could hike back to the trailhead and call it a day. But then we would have to come back and do it all over again to get to North Weeks Mountain. Or, we could turn around and head back to South Weeks then on to the rest of our planned route. We would be adding an additional five miles. What was going to be an 11.3 mile day with 5 summits, would now be a 16.3 mile day with 7 summits.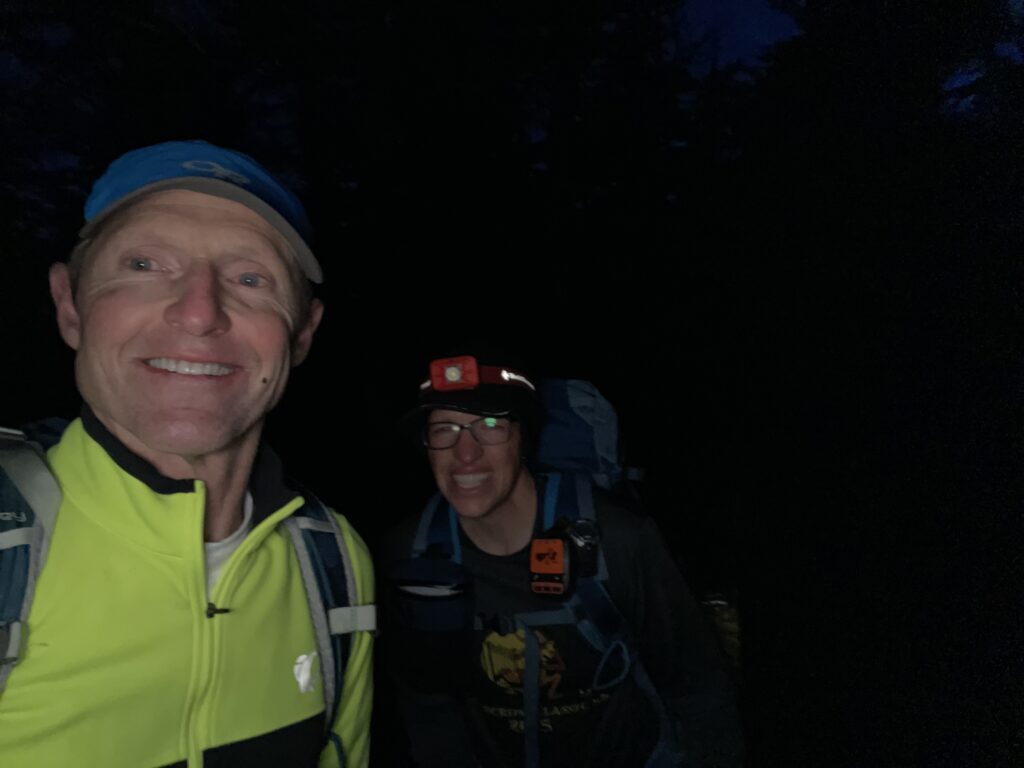 We were all in! Agreeing to finish what we started, we had headlamps and would be ok hiking out in the dark. How we get there is another story, once the decision was made to go for it, I crank up the speed, I will make up for the time we lost and we will come out around the same time we thought we would. Nicole on the other hand will go into conservation mode. Since she now added 5 miles and two more peaks which will require additional energy, Nicole went into a slower mode to insure the spread of energy will lead to a successful completion. 
It is learning how to hike with others successfully that is a main ingredient in having successful hiking partners. In this case I slowed down a bit, and Nicole put in a little more effort and we met in the middle. We finished the hike, and after getting back to the car spot. The White Mountains threw us a little present, a wipe out snow storm until we got through Franconia Notch.
You can drive to the top
A day trip to Equinox Mountain was next. Equinox is in the beautiful town of Manchester Center. We chose the end of November for our hike. There had been fresh snow before we started so we broke trail all the way to the summit. There is something special about your first winter hike of the year (even though it was not technically winter). Breaking trail is hard work, and walking with snowshoes is a completely different exercise. You would think all of the hard work you put in during the summer and autumn would help you cruise right through the snow. Nope, not for me. I have to be reminded "winter legs are earned". It was frosty at the summit, a reminder of what we would see for the next four months in New England.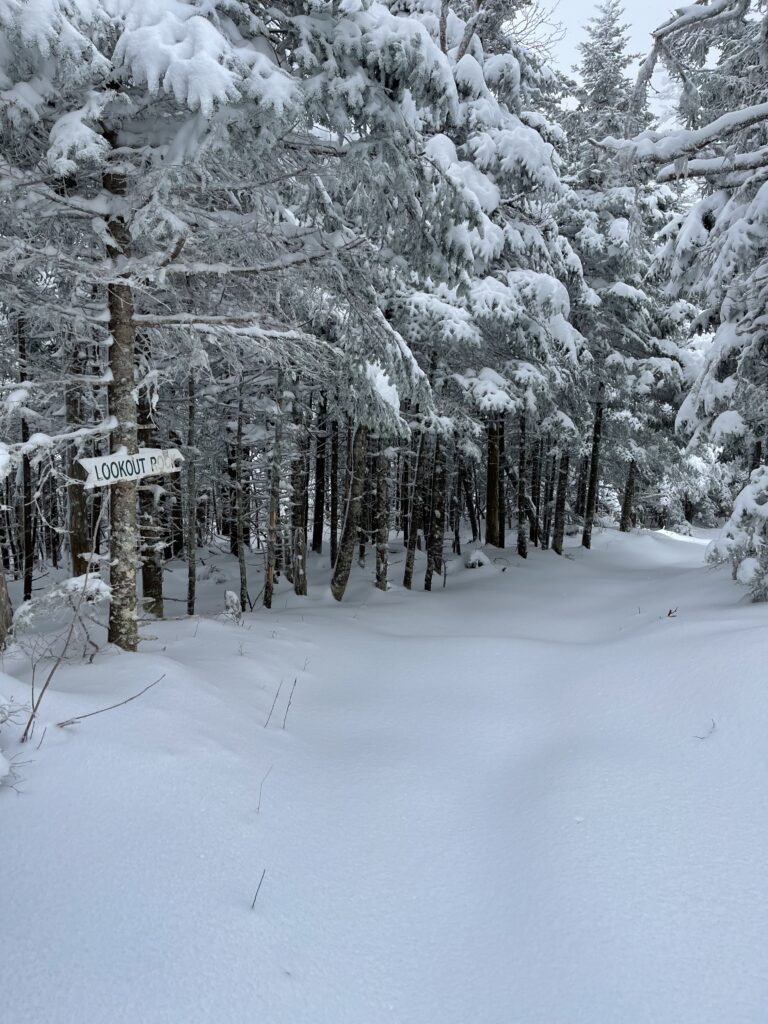 Hiking may not be your thing, the bugs can be a problem, the woods can be challenging for many, there are rocks, roots, fallen trees, mud, snow, ice and many other obstacles. But there are a few Mountains on this list that you can get in your car and drive up.  Equinox is one of these mountains, others include: The world famous Mt. Washington with not only a road to the summit but also the Cog Railway leading you to magnificent views. Mt. Mansfield has a road that gets you close to the summit, and Cannon Mountain has a tram that brings you near the peak.
Dorset Mountain was our final NEHH peak for 2021. A pleasant December day saw a little bit of everything, Ice, snow and bare trails. It was a busy day on the pride of Dorset, Vermont.
Sabbaday no-no: Bailing is optional while hiking
One of the proudest and most accepted actions a hiker can take is to bail (turn back-take an early exit). I used the word the other day and the person I was speaking with was flabbergasted. "Bail" like it was a big no-no. The reality is this action can save lives. The mountain will always be there, and you can come back to attempt a summit on another day.
Nicole and I started up the NEHH quest again with a hike in May up Peak above the Nubble, a wonderful hike with some bushwhacking involved. We were both happy to get back to the list and planned to return to the Sandwich Range for a second attempt to get to East Sleeper Mountain. There are many challenges to complete this list. This one was a two time challenge for us.
Our first attempt was in the winter. We had a great plan, we would go up Sabbaday Brook Trail, bag the three Tri-Pyramids, then get the Sleepers and with a car spot head down Downes Brook Trail. 
Strike one
Well that winter day was a doozy. The many crossings of Sabbaday Brook were a challenge. There was no ice bridge. The icy rocks to hop over the rushing water were a challenge. We had constant footwear changes, from bare booting, micro spikes and snowshoes to navigate without getting our feet wet (not good in the winter). There was fresh snow so we had to break the trail, the steep parts were pure ice. It just kicked our tail and with the constant challenges and just took longer than our normal speed.  
In the winter, cold digits (fingers, toes) can become a frost bite problem quickly. All the stopping and starting that we were experiencing was surely a recipe for the cold to make a bad play on us. With all of the water crossings still needing a second cross, it was an easy decision: Bail out. We did make the winter summit of North Tripyramid and had a heck of a workout, but the main goal was pushed aside for another day.
The new day was in June. We changed our ascent trail, met nice folks on the Tripyramids, had great views on the South slide, and bagged East Sleeper (the main goal). We were flying high descending Downes Brook Trail, when Nicole sustained an injury that would put her on the sidelines until mid September.
Hiking Desire
Nicole fought back and was able to make her re-entry to the mountains with a beautiful hike to Nancy Pond and then up a herd path to Mt. Nancy putting us back in hot pursuit of the NEHH.
We finished Vermont in October on a two day trip with an icy hike up Jay Peak and a bushwhack over to Big Jay Peak ( I liked being on these peaks and in the town of Jay (Jay all day).
The second day of that trip was a much different experience, beautiful autumn weather, beautiful foliage colors and the lake on the mountains of Wilson and Breadloaf. It was an excellent finish for Vermont.
Ski Mountains
There are several Ski mountains that grace this list. In Vermont, Mt Ellen has Sugarbush, Mt. Mansfield has Stowe, also in Vermont are Jay Peak, Stratton, Pico and Killington. While in New Hampshire you can ski on Wildcat, Cannon and Tecumsah. Maine brings you Sugarloaf and Saddleback. Even if you do not ski, many of these ski resorts run their chair lifts in the summer and autumn where you can enjoy a trip near the summit and catch the beautiful views without hiking.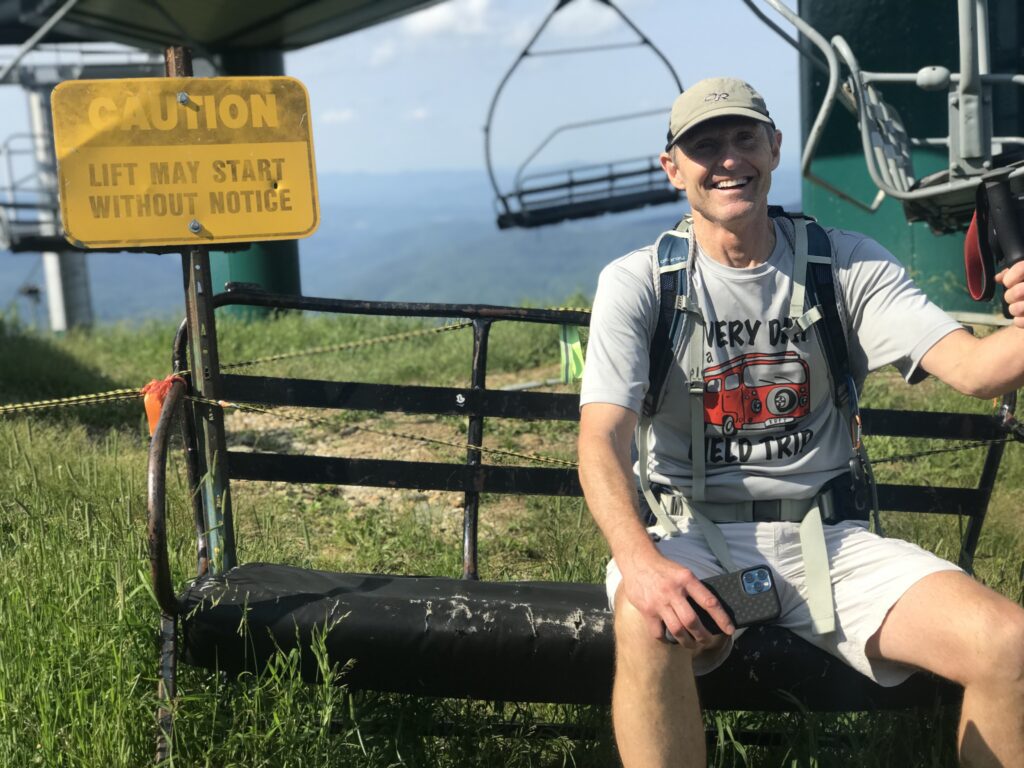 Is this adventure?
Nicole along with friend Julia and I had two more peaks to summit as 2022 came to a close. First we had a great day with the diversity of Vose Spur. The rock slide, herd trails and bushwhacks were all pretty cool, on a beautiful autumn day.
Next up on Thanksgiving weekend was Scar Ridge. There were all kinds of challenges involving Scar Ridge. I could not get a comfortable track and it would be a true bushwhack with freshly fallen snow on the ground. Nicole found a track after speaking with some locals in the know. With that, I could not say no and we headed up for the hike. We started at the Discovery Center trail, crossed the Kanc and made the River crossing by straddling an ice-glossed fallen tree. Soon Nicole would lose her track, but I used the Topo on Alltrails to get us to the summit area, which was a blowdown city (dozens of fallen trees from storms). 
This is where some things went wrong. I lost my phone (popped out of my back pocket while finding my way over some blowdowns.  Now, I wear a hitch that keeps it attached to me). My phone had a track to the back of Loon mountain which was our way out. Long story short, we got turned around a bit over the nearly impossible terrain.  
Help
Still on Scar Ridge, Nicole, Julia and I were prepared. We had the necessary items to stay on the mountain all night, bivies, sleeping bags, food, water, extra clothing etc. We were in no danger. At 10:00 PM still fighting the terrain I asked Nicole, "at what time do we call 911"? We were not looking for a rescue and indeed did not need one. However, we were looking for a little direction. Although we had compasses we did not really have the coordinates of where we needed to go, we really relied on our technology (which was downloaded, but in my case lost). 
The really cool thing about 911, is the service works even when there is no cell reception and we were really happy that it does. The 911 Operator got the coordinates from our phone (in this case Nicole's), then dialed up New Hampshire Fish and Game. We explained our situation, let them know we were prepared to spend the night and were simply looking for direction. Jim from NHFG asked us if we had a compass, we did, then he asked if we had an Iphone compass, which we all found interesting.
The Iphone, it does that!
Julia used her phone. Jim said the Iphone compass was easier to follow and suggested we use it. He directed us to follow 39 degrees and call back in 20 minutes. This happened three times and just like that we found our way (with help from Jim)) to the Loon Mountain Ski trails, and an easy hike down the rest of the way.
We did a lot of things right, but most importantly we were not too prideful to call for help. There were no rescuers involved; we did not put anyone else at risk. Jim from the safety and comfort of his office was able to direct us. Too often hikers wait until it is too late, they require rescues and oftentimes with fatal results. In New Hampshire, they sell Hike Safe Cards. You pay for these cards like a membership and it covers the cost of a possible rescue. Nicole, Julia and I all had hike safe cards.
Maine
With only 9 mountains left, all in Maine, Nicole arranged for Scott, Mark, and I to stay with her at a friend's condo, providing a home base to complete the final 9 peaks. Julia decided to join us well.
We knew the terrain would be rugged, we might travel on more dirt roads than paved roads, and most likely we would not see another soul out there. In tackling the famed six pack of bushwhacks, we needed to have everyone on the same page. We made these decisions at the condo, a very business-like approach. 
Bushwhacking
Some people love bushwhacking others are terrified by the thought. The numbers do not lie. The NH48 list has had at last count 17,639 finishers. The NE67 has had 4,311 finishers while the NEHH with more than a dozen bushwhacks has had only 1,207 finishers. Bushwhacks involve lots of planning, more clothes, better navigation skills, and finding your way to the top and back without the benefit of a trail. Just the woods and you. Sometimes we will use technology (purists would never do such a thing), while other times we will go old school. I must admit, I like technology as an aide. It is hard enough walking through thick trees, slash fields in lumber country, blowdowns and so much more, it is very easy to get yourself turned around.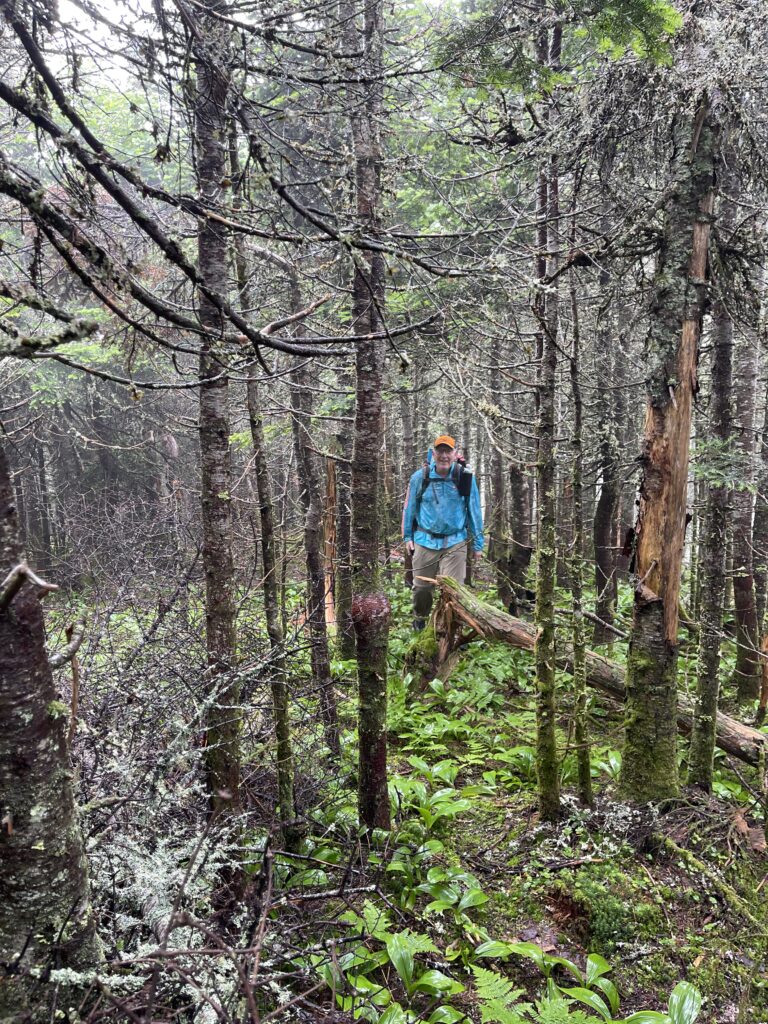 Dirt roads = Fun
In order to get to the trailhead, five hikers would need to bounce all over the Dodge Ram pickup, we were so happy to get there not one person complained.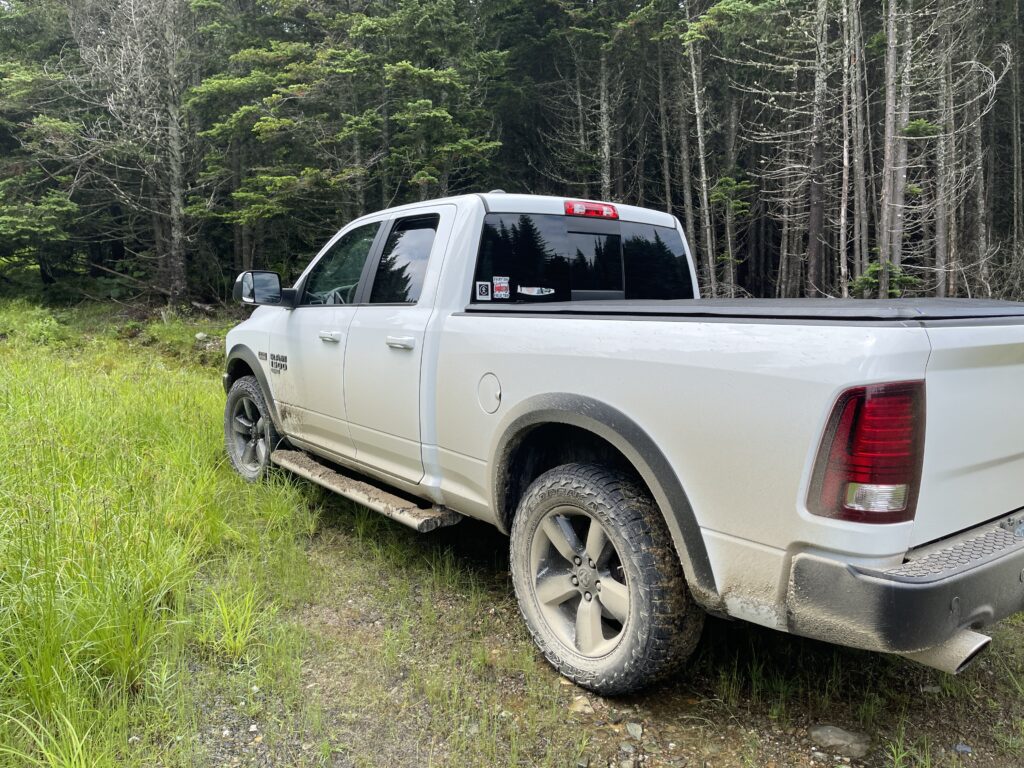 East Kennebago
It was raining for this one, in fact it had been raining for days before we got there, everything was soaked. Our group was just so happy to be there, we trekked through and had a blast. At the end of the hike my trail runners smelled like swamp (they never made it back home).
Snow Cap
A beautiful Mystical Forest. Maybe it had something to do with the fact that we were on Penobscot land, but with the rainy day, just a bit of fog, and enough heat to make things percolate a bit it just felt magical. We were lucky to be on Native lands.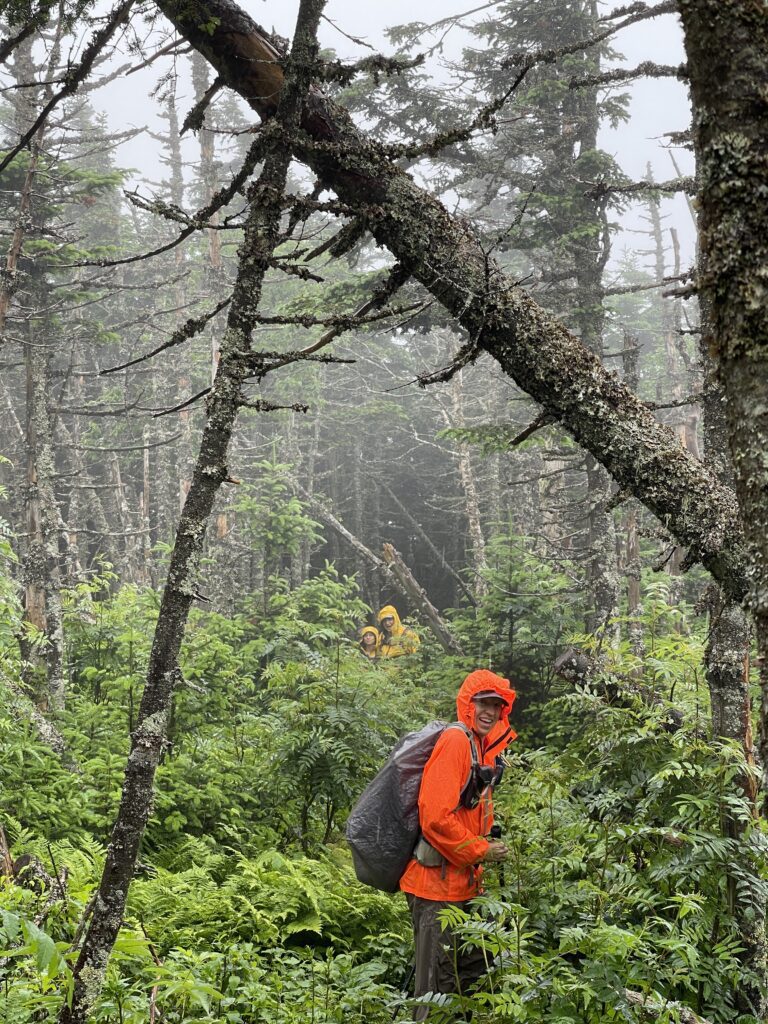 White Cap & Kennebago Divide
Often hikers will hike these two together with Boundary Peak. Due to massive amounts of rain we decided the bog between Monument 450 and Boundary would be risky at worst and no fun at best. We went with a different plan. We chose the two above mentioned peaks, then a drive to Snow Cupsuptic for a three peak day.
Wet chest high grassy fields are no fun after large amounts of rain. You are wet early and for the day. We bypassed this ATV trail and bushwhacked up a gentle forest to the summit of White Cap.
Although we had some downstream rivers in place between the two peaks, the gentle forest continued making for an enjoyable bushwhacking morning.
Snow Cupsuptic
Sometimes you just have to race up to the summit. This is how we handled our third peak of the day. A really nice ATV trail then a pretty manageable bushwhack to the top and repeat on our way down.
Elephant Mountain
OK, MY BAD! Nicole was right, my choice to the summit was tough, it was a slash field that seemed to go on forever, when we finally got out of that, the thicket was tough as well, and finding the summit not easy at all. After enduring this ordeal, Nicole suggested we follow her route down, while the first part of our descent was still through a tight forest, we missed the entire slash field and came out on a easy to navigate ATV trail. It was easy to admit Nicole was right, we were so happy not to repeat the difficult ascent. Nice job Nicole!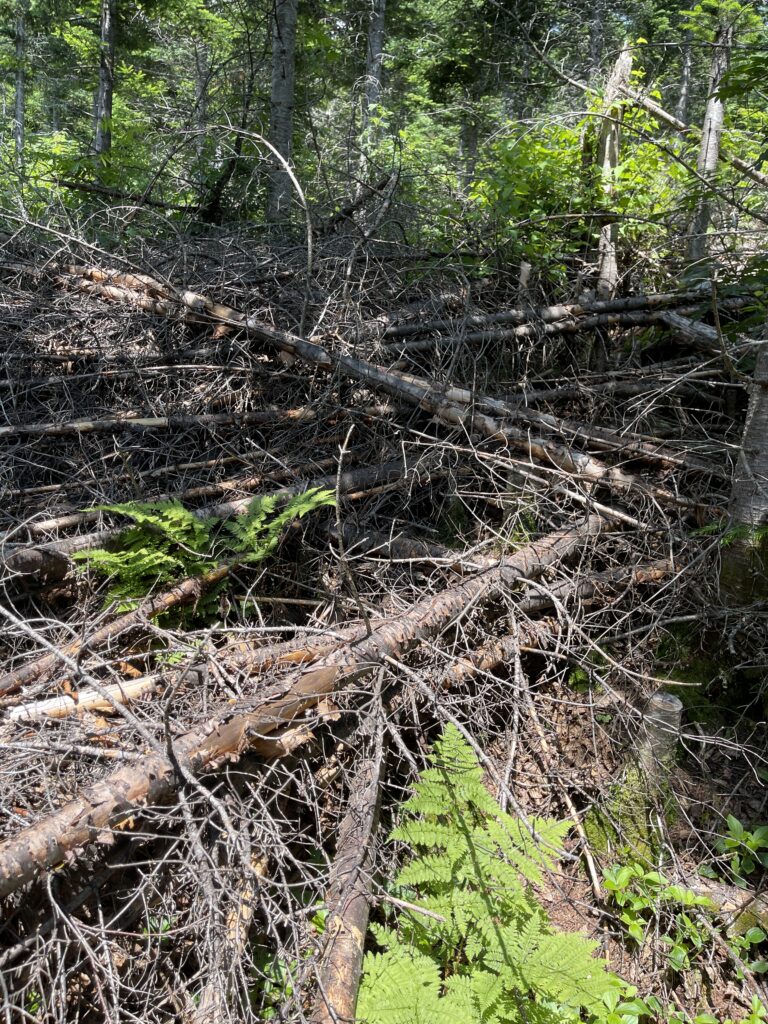 Elephant Mountain Tip: From the ATV trail take the left, by all means take the left.
Baldpate
The Appalachian Trail runs you to the top of the Baldpate peaks, even though we had hiked Elephant earlier in the day, and the effort there was showing in how we felt as we motored our way to both summits. We knew this was a special place.
Tailgating hikers
Scott opted not to summit and simply hiked the mileage he wanted for the day. When we returned to the parking lot, he had been welcomed into a post hike cookout by the #peakoftheweek hiking group. They welcomed him, told stories and even fed him.
Oh Canada
Friday: Off to Canada. The absolute best decision. First the ride up route 27 to the border was spectacular. The ride to the trailhead in Canada took about the same amount of time as to the trailhead on Porter Brook Road. But the hike itself eliminated the sloshy bog issue.
Reserve Ecolgique du Mont Gosford is where you hike to Boundary from the Canadian side. We drove the truck as far as we could to the trailhead, and after crossing a couple of wet dips in the trail it was straight up scree for about a mile, until picking up the Border Swath. This trail was so enjoyable after some of the bushwhacks. Number 99 was achieved at both Boundary Peak (Canada) and Panther (US).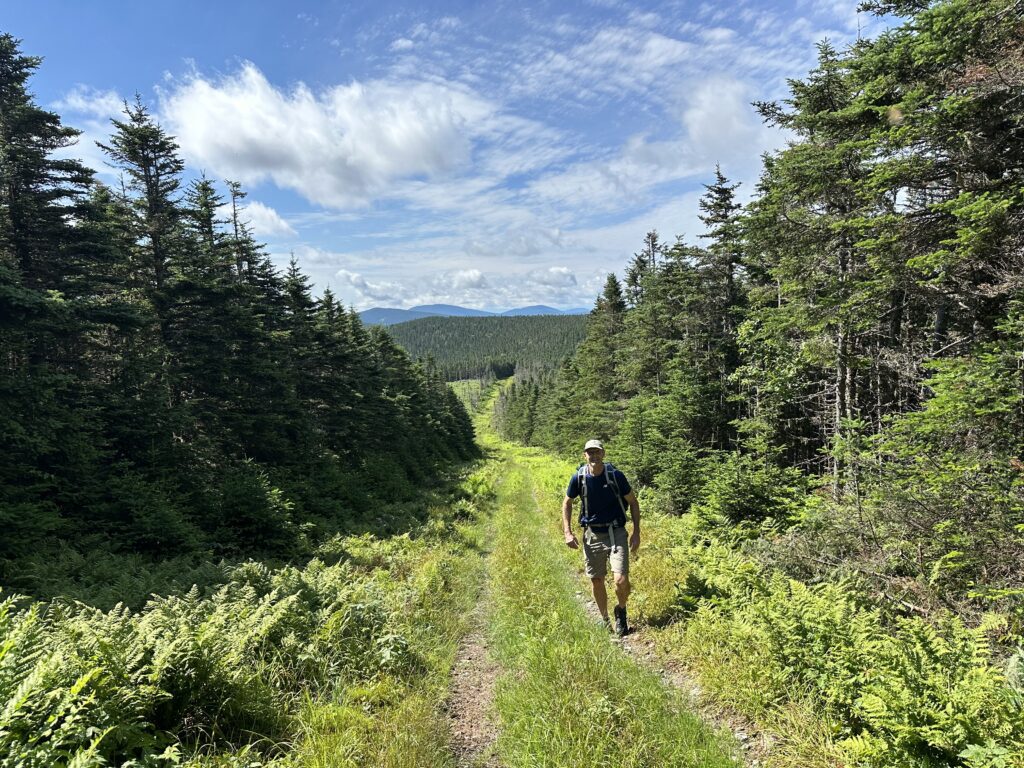 The finish line is near: Goose Eye
Saturday: Thunderstorms were in the forecast and we had a two and a half hour ride to Success Pond Road trailhead. Nicole, Scott and I packed up the condo and were on the road shortly after 6:00 AM. We were determined to achieve #100 rain or shine, but we really did not want to take part in lightning strikes on the mountain.
The hike up Goose Up mountain was beautiful and when we reached the summit, we immediately flashed those big finisher smiles for the summit #100 selfie.
Being one of only 1,209 or so finishers was cool, but you know it is all about the people you are with and when Scott arrived to the summit to join in the celebration, we let out an even bigger whoop, whoop!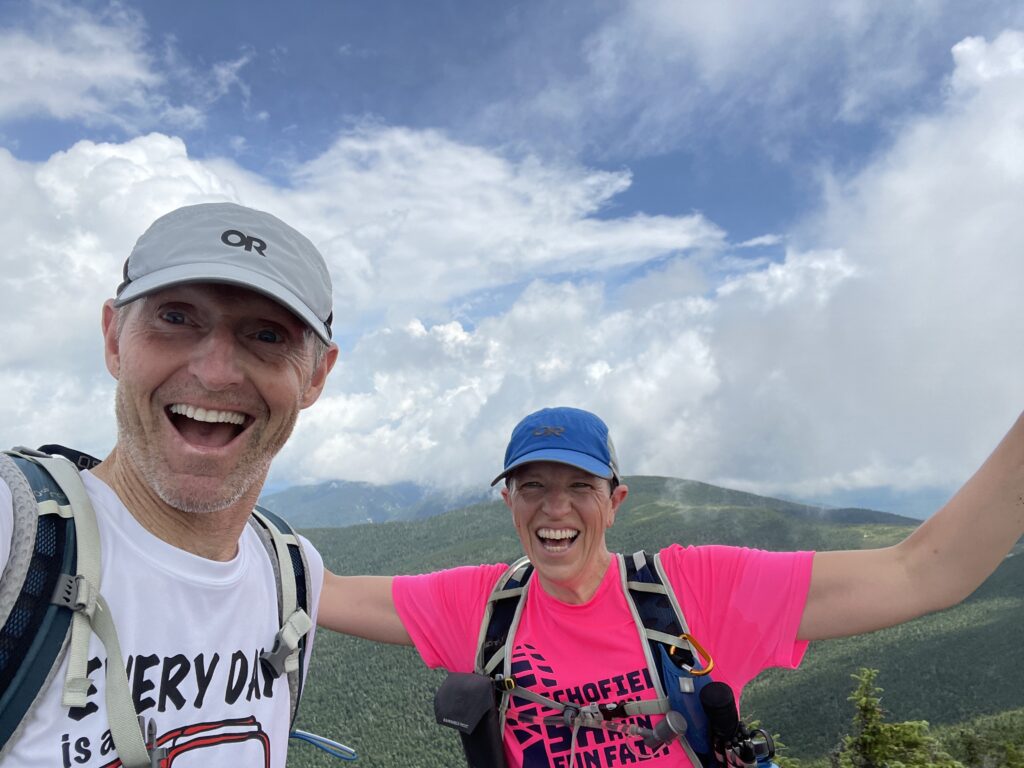 It ain't over til it's over:
You might think finishing the hike and securing number 100 would put the final kiss on this pursuit. But we were not done with this story. It was a steamy day and while we were all changing out of our hiking clothes, Scotts key fob malfunctioned and locked us out of his truck with the engine running. We were eight miles down a dirt road, and lucky for us we had help from a couple of local guys who had a camp down the road and also had access to the tools needed to get the door open. It was not easy and they could have easily given up. But one of the guys had such determination. To him it was all about helping someone out and not giving up. We were really lucky.
Not finished yet
Finishing with Nicole, something we had committed to completing together, was particularly satisfying after the challenges she had with her injury and getting back to the mountains. It was the second list we completed mostly together having also completed the Terrifying 25.
What an adventure. Friendship, stories, fun, laughter, good food, hiking, mountains, dirt roads, pickup trucks, rain soaked shoes and clothing, bugs, more bugs, finding good people and more. Every Day is a Field Trip!
I may have said that
** On Elephant Mountain: "This is hellish and amazing all at once"
**On one of the six pack bushwhack mountains: "I never want to bushwhack again, even though I like it".
**While hiking on Goose Eye Mountain "I do not want to do anymore lists, that is until I finish my AT section hikes of New Hampshire (almost done), & AT section hikes in Maine, and when I finish the 52 with a view, oh and when I get my last few peaks across the country in my search to stand on top of all 48 contiguous states. But then I am just hiking".
Read more EVERY DAY IS A FIELD TRIP blogposts.