GREAT RESTAURANTS; TOUR ACROSS AMERICA
We take pictures of our food, we talk about how good our meals were, it makes us happy, and puts a smile upon our soul. In each town that I travel my search for a best restaurant is always with me. Where to dine is constantly on my mind, in fact dining out is one great field trip. EVERY DAY IS A FIELD TRIP
I admit it: my love affair with food is real. It has always been there. In fact I exercise just so I have no limitations in how much I can eat.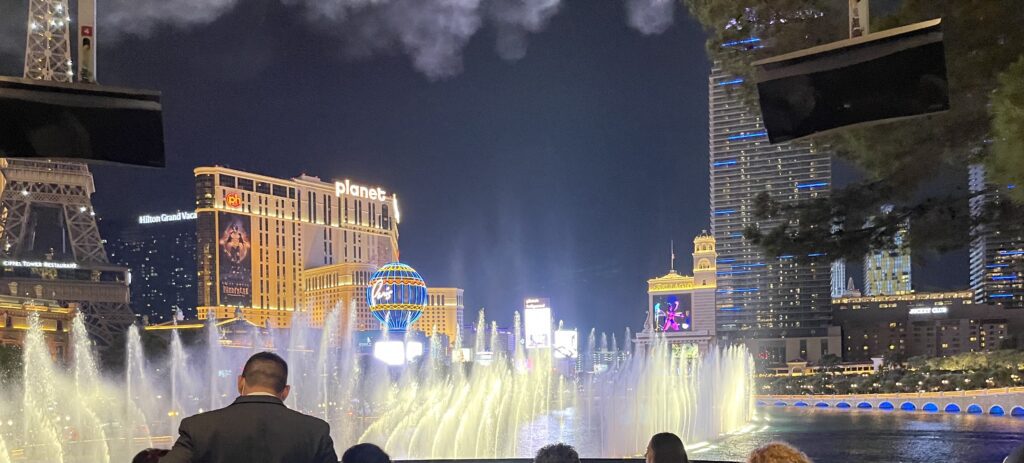 Super Bowl of Eating
I'll share an example with you. I was lucky to score the ultimate Food Party ticket: The Taste of the NFL. A purpose-driven party among the starstruck week of events leading up to the Super Bowl in 2004 taking place in Houston, Texas. At this event, each city brings a restaurant and the team provides a player or former player signing autographs at their location in the event hall. Can you imagine eating at thirty plus great restaurants from thirty different cities in one evening? This is the Super Bowl of eating.
Super Bowl of Eating Preparation
It also called for a serious amount of preparation. I would need to burn a lot of calories so I could consume a ridiculous amount of food that evening. So I went to an exercise club that I researched. It had a weight room and a basketball court. Perfect. Strength training burns calories for hours after you have finished your workout, and playing basketball is one of the best ways to conduct a serious cardio workout.
I played basketball for at least three hours. The highlight of the games was playing with a guy who was the best player on the court. It was obvious from the first game, this dude was confident like no one else, but he was a great team player and a leader. After basketball I worked out with this gentleman in the weight room and found out his name was Tuffy Rhodes. I knew about Tuffy Rhodes, he was a former Major Leaguer who once hit Three Home Runs on opening day for the Chicago Cubs. He was also at the time a big time star in the Japanese Professional Baseball League. In fact he hit 464 Home Runs during his career in Japan. I do not know if Tuffy was preparing for the Super Bowl of Eating or just staying in shape at his local club.
But I digress, I willingly worked out for several hours so I could be sure I would have enough room to properly conduct myself at the biggest eating party I could find. Yes, I made it to every table that night, and I am not too proud to say that I went back for seconds on a few of my favorites.
Great restaurant happiness quotient
Family and Colleagues have always relied on me to point them in the right direction of the best pizza joint, or the finest dining experience in cities across the globe. And as such I still hold this responsibility dear to my heart, or is it to my stomach?
For my family's trek to National Parks this summer, I decided to take a different approach. I would not plan all of the food. We have three family members who cannot have gluten, and it is difficult to find a great restaurant who delivers gluten free well. So we try to choose these establishments even though four of us have a gluten full diet. I left the planning to others and even last minute additions. Even without advanced planning we found some true gems. The most important thing that I look at when deciding if I would choose to go back to a food establishment is: was I happy? Happiness can be altered in many ways, below are some of the happiness quotients that I look at.
The Categories
Taste
Quality
Presentation
Ambiance
Service
Friendliness of the staff
Other diners
Position of your table or eating location.
Value
Bathrooms
Yes or no to dessert at a great restaurant?
The restaurant had to earn it, was the rest of the meal great?
I have to want something from their offerings. Never have a dessert just to have one.
The winners
Here they are, a mix of Mom and Pops, chains, hotels, fine dining, drive ups and more.
Cleveland, Ohio
Mortons Steakhouse: There are so many great steakhouses across the country and this chain is one of them. You can always rely on Mortons for a great meal. Since I was traveling with just Kevin at this point, coupled with the fact that Mortons was around the corner, I decided to treat the young man to a steak. He had his best steak of his life that night as they were serving Wagyu beef. I am not a meat eater, so I enjoyed the Chilean sea bass. We ordered the garlic mashed potatoes and I ate way too much of the warm bread they served. When choosing where to dine, Morton's is an easy yes. #mortonssteakhouse #mortons
Renaissance Cleveland Hotel dining room: Please do not give up on me here. We had breakfast at this spot two days in a row prior to heading out for full days of hiking and sightseeing. We loaded up with omelets, pancakes, and yogurt parfaits. Each order was tasty and delivered with great service. In our Happiness rating they hit 10 of 10, and they get a Great restaurant applause for that. #marriott #renaissancehotel
Peninsula, Ohio
Szalay's Sweet Corn Farm & Market: In the Cuyahoga Valley, in fact may even be within the grounds of Cuyahoga Valley National Park. We stopped here for lunch, they had a burger stand outside Kevin and I both opted for the salmon burger. Once we finished enjoying the burger we went over to the fresh corn stand and were so excited to get this big beautiful ear of corn on a stick, it was fantastic. We came back following a hike for soft serve ice cream. Burn the calories in the National Park and fill back up at Szalay's. You can also take home fresh produce and baked goods. #szalays #szalaysfarm
Indianapolis, Indiana
Ocean Prime: This chain of 17 locations in 16 cities across America is a seafood version of chain steakhouses. It was just down the street from our hotel and open late, perfect for weary travelers.
We went all out: the truffle popcorn served at the table, the pre-meal bread. I went for the Point Judith Calamari, because a New Englander has to have something from New England when he is in Indianapolis, right? So far so good, I was happy and I still had the Teriyaki Salmon to enjoy. With the side of smoked Gouda tater tots. We left happy and I look forward to eating at their Boston location soon. A great restaurant as they also scored a 10 on our happiness meter. #oceanprime
Chicago, Illinois
Pizano's Pizza and Pasta: It's no secret, I love pizza and I love all kinds of pizza. Neapolitan, Detroit style, Deep Dish etc. So a visit to Pizanos with my friend Tim Burns, a Chicago local, meant that we would need to have both their deep dish and thin crust offerings. I was told that Pizanos was the creator of the Deep Dish pizza. We found our way into seats in the bustling red checked tablecloth dining room for pizzas that did not disappoint. I loved both styles Pizano's had to offer. We walked back to the hotel, enjoying the excitement of Saturday night in Chicago. When it comes to where to dine #pizanos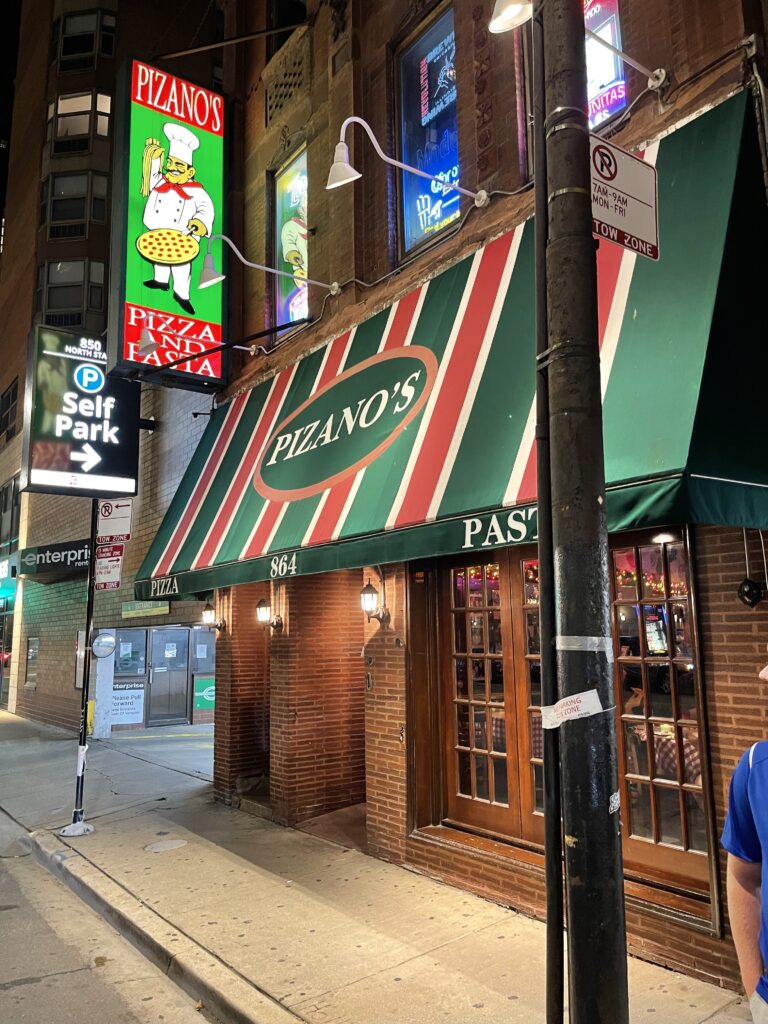 Sioux City, South Dakota
Texas Roadhouse: We arrived into town late, without any research, so decided to go with a proven chain. Many of my former colleagues are cringing right now: Jay ate where? But, I love the warm rolls served with maple butter. I had at least five of them prior to getting my salmon with mashed potatoes, gravy and veggies (I seriously do not remember what the veggie was, but I think it was green beans). I have found that the chains can deliver tasty and safe seafood these days. The fish is flash frozen and the restaurants only need to thaw what they use. For this reason, and of course the dinner rolls, I would visit Texas Roadhouse one more time in Amarillo, Texas during this trip. #texasroadhouse
Wall, South Dakota
Wall Drug: After a great day at Badlands National Park where we built up quite an appetite hiking several trails, we had to make a stop at the world famous Wall Drug and see what all the fuss was about. First of all, it is just way cool. Wall Drug is Wall, South Dakota. It is like the town was built around this store. The store is huge and there are many sections selling so many different products that you could get lost for hours. The place was very busy, and we sat outside in their courtyard with our burgers (veggie for me), and a homemade chocolate covered donut, simply enjoying the environment. #walldrug
Custer, South Dakota
Game Lodge Restaurant: Since we stayed at the State Game Lodge and had dinner here two nights in a row, I had a pretty good sample of what they did well. I loved their appetizers and salads and, even though I am not a meat eater, I had to try the Buffalo Ravioli appetizer the first night and the Game Lodge Lost Trail Chili (Buffalo) the second: both were outstanding. The Cranberry Pecan Spinach salad with pear and gorgonzola was on my plate both nights (If I had it twice, you know I liked it). #custerstatepark
I had the rainbow trout the first night and the Walleye the next, both nice dishes, but what I loved most about this place was the feeling of a bygone era. Like I was participating in the old school American plan (meals paid for as part of your hotel room), like they used to do in the Catskills and other resorts way back when.
Miners Cup: A takeout and drive through joint only, this spot is just cool. It looks like an old mine entrance, the staff is wonderful, and the food was great. Kevin and I stopped here early in the morning on our way to Wind Cave National Park. We loaded up: I had the Buckaroo sandwich (without the roast beef, because I loved the combo in the sandwich), a biscuit with jam, a peach smoothie and a cinnamon roll.
Let's talk about cinnamon rolls. I brake for cinnamon rolls, and love it when I find a good one. If I order a cinnamon roll and it is substandard, I walk away from it. They are so fattening they have to be great to consume the entire roll. The roll at Miners cup was fully consumed. Kevin and I went back for lunch before hiking Black Elk Peak in the Black Hills. We brought Helen for breakfast the following day, and yes, I had another cinnamon roll (go ahead, judge me). The gluten free options were great, they even had a GF chocolate chip cookie.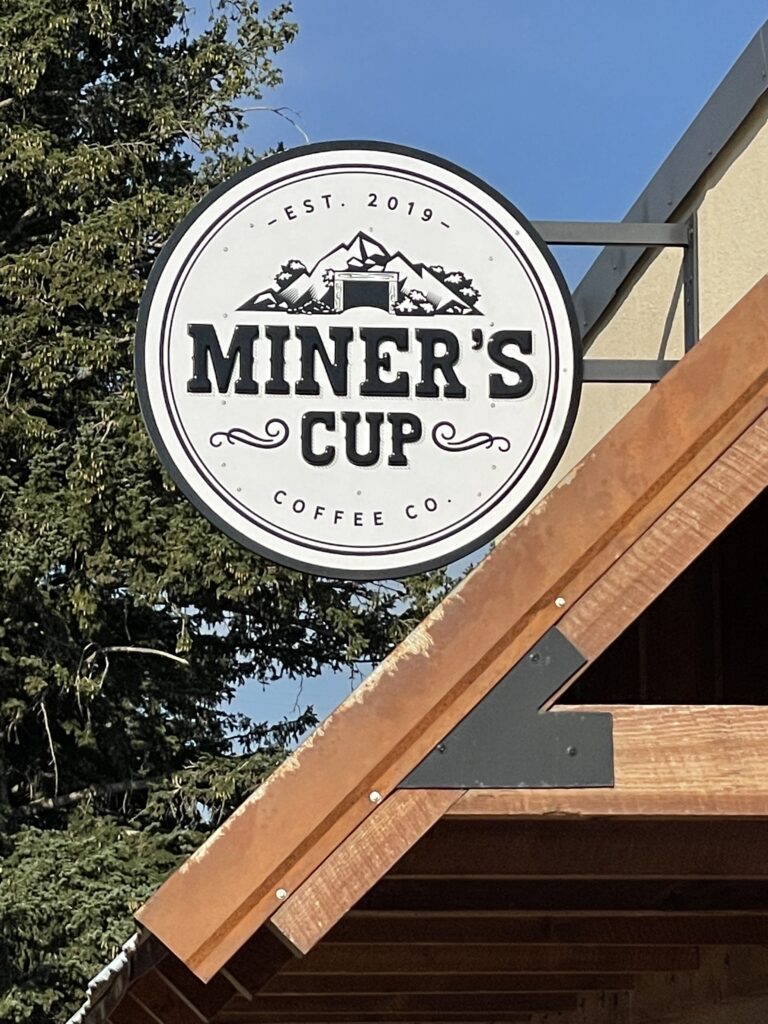 Medora, North Dakota
Theodore's Dining Room: We loved our time at the Rough Riders Hotel and that includes Theodore's. The staff was friendly, the service was great and I started off my meal with an immediate victory in the form of roasted beet salad. If a restaurant takes the time to roast beets they are already winning points with me. The salad was great and with the complimentary bread my hunger was rewarded quickly. The Walleye entree was also good and we went off to the Medora musical with full stomachs. We hit our happiness meter and agreed this is a great restaurant in Medora.
Farmhouse Cafe: We loved this place. In fact, we had breakfast before heading over to Theodore Roosevelt National Park and then came back for lunch. I had a great yogurt parfait and sweet cream pancakes with homemade chocolate syrup for breakfast, and a great veggie burger for lunch. My gluten free dining partners loved the GF options enough to warrant that second trip. They close at the end of August for the season. #medora
National Park Restaurants
The National Parks were facing an extreme labor shortage this summer. As a result, the majority of the sit down restaurants from the Parks we visited moved to take out only. There was not a restaurant that made it to the list of 'Gems', but some deserve credit for their efforts, especially the staff at the Yellowstone Lake Hotel who were amazing in operating their buffet, which seemed like such a treat. The best takeout dinners were from the Snow Lodge, also in Yellowstone, the Bryce Canyon Lodge with their lunch offerings. And although we missed the famous cinnamon rolls at Capitol Reef National Parks Gifford Homestead. I still loved the Strawberry Rhubarb pie. #nationalparks #nationalparkservice #yellowstone #brycecanyon #brycecanyonnationalpark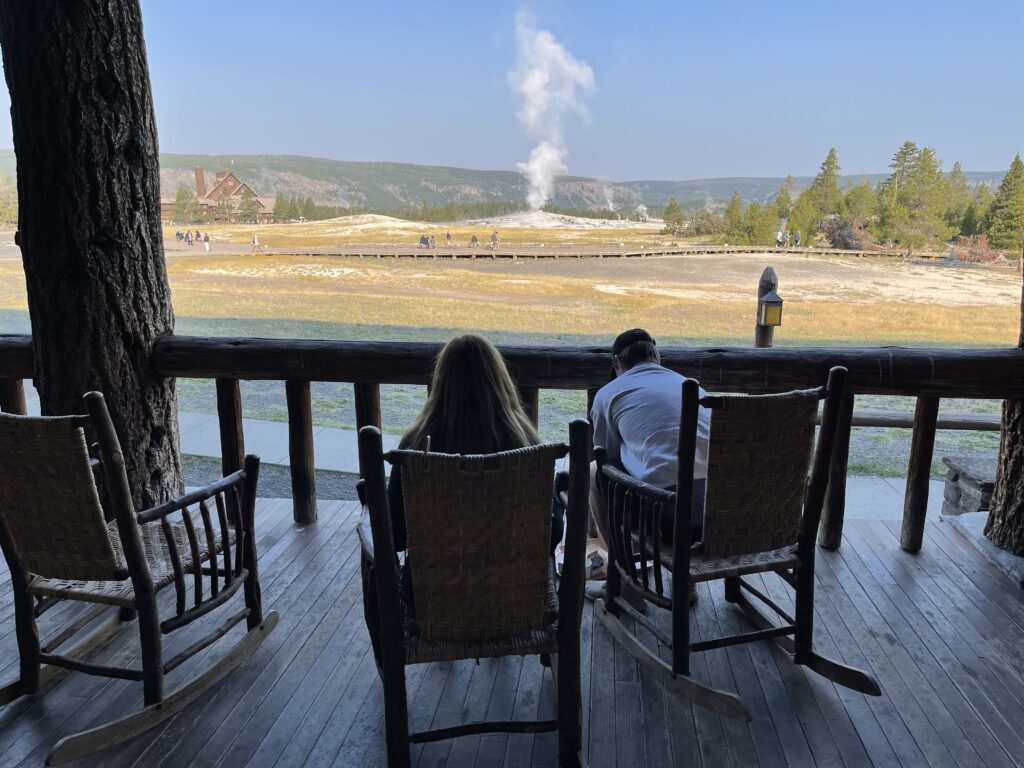 Jackson Hole, Wyoming
Persephone Bakery: The line was long and it had the name Bakery, two reasons to join the line and check it out. We ordered from the breakfast menu, I could have ordered everything on it. I chose the Seeded Avocado bowl with smoked salmon. They put such effort into what could have been a simple dish and turned it into a flavorful bowl of fun. They coated the avocados with everything bagel seasoning, added pickled onions, fried capers, red lentils and goat cheese. If that wasn't enough, I also had the sweet potato & brussel sprouts hash with sage cream sauce. Winner winner. #jacksonhole #persephonebakery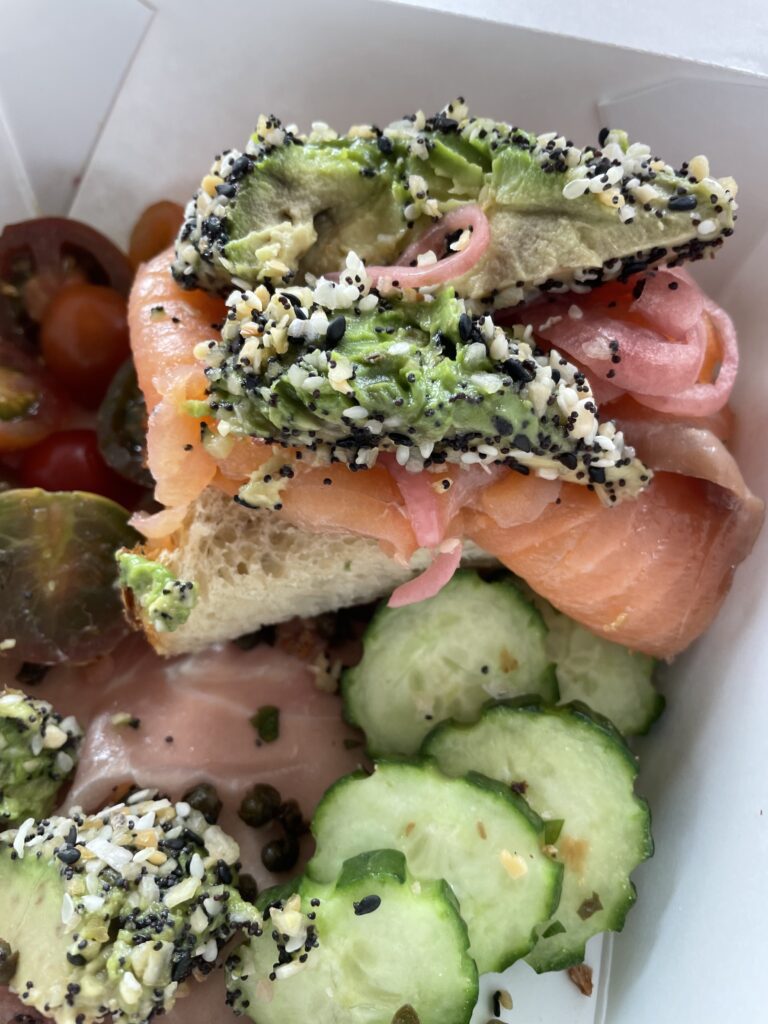 Park City, Utah
501 on Main: We went to lunch the day after my friend Mark and I hiked Kings Peak which was a 30 mile hike. I was so hungry when we sat down. I ordered the beet salad with pistachios, and the pecan crusted Utah red trout with creamed spinach served on a sizzling skillet. It was love at first bite! #parkcity #parkcityutah #501onmain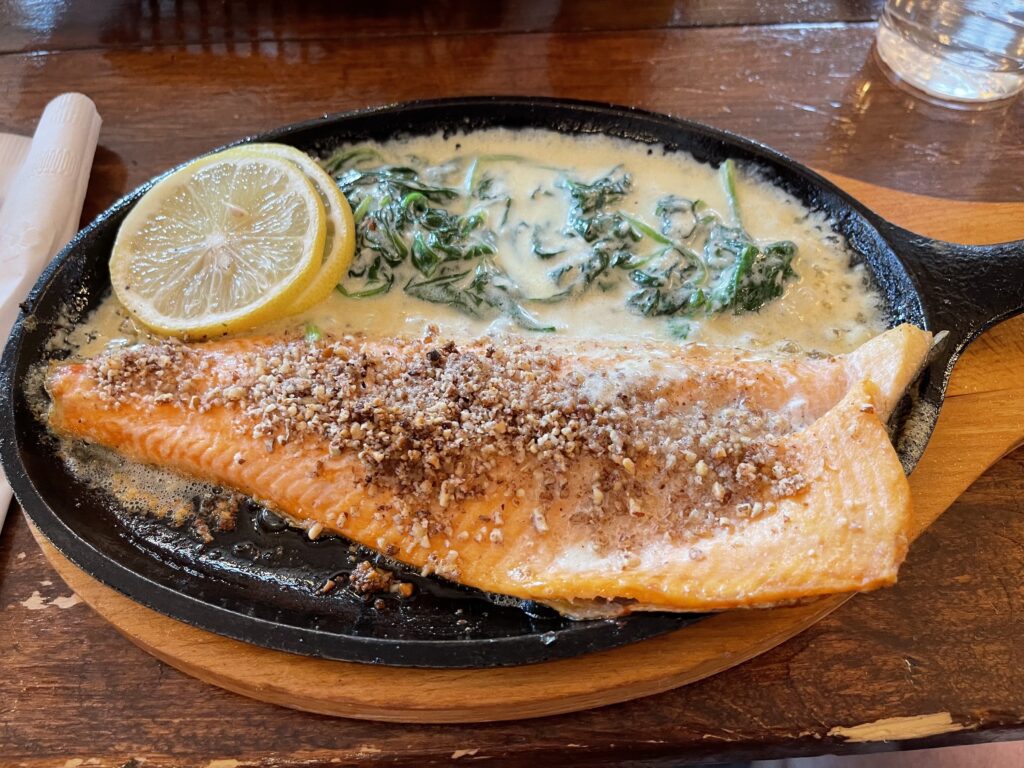 Loco Lizard Cantina: We ate here twice so I guess we liked it. The chips and two varieties of salsa served up upon seating were great, the fish tacos with a chipotle aioli, pineapple salsa and guac were delicious. #locolizard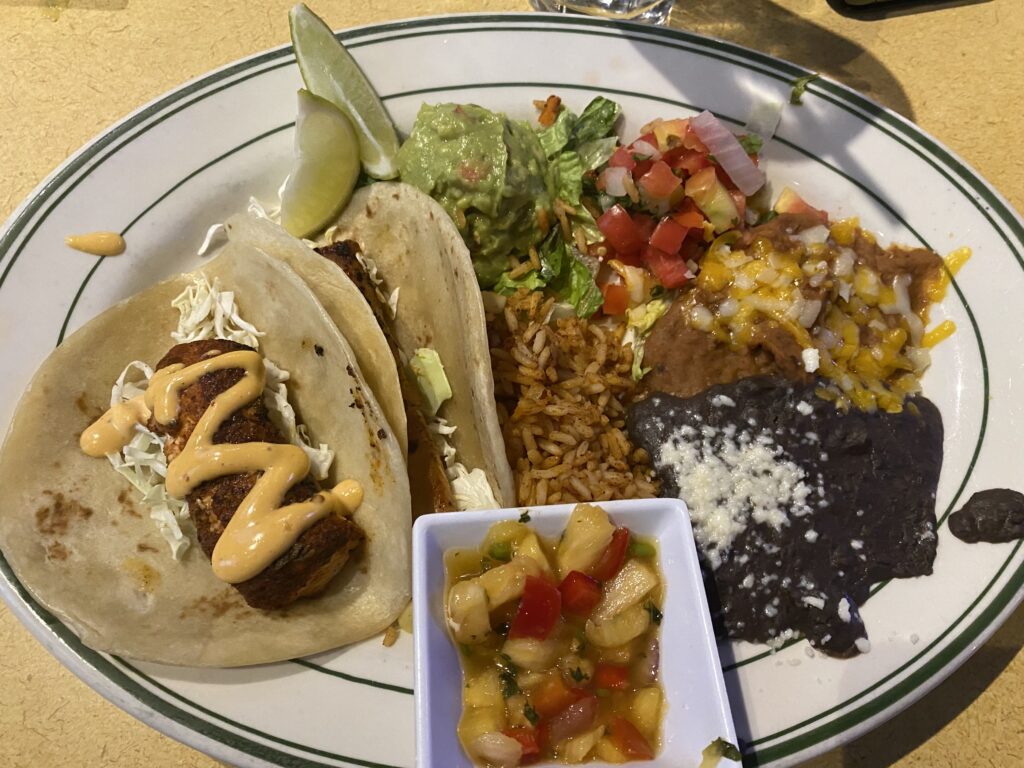 Salt Lake City, Utah
Taqueria 27: This small local chain delivers great flavor. I stopped at the downtown location and enjoyed the fish tacos, and ordered the guacamole of the day. The flavors were great and they earned a dessert purchase. We went with the gluten free churros with chocolate sauce. We ended up eating at their Fashion Place location on another occasion. #taqueria27 #saltlakecity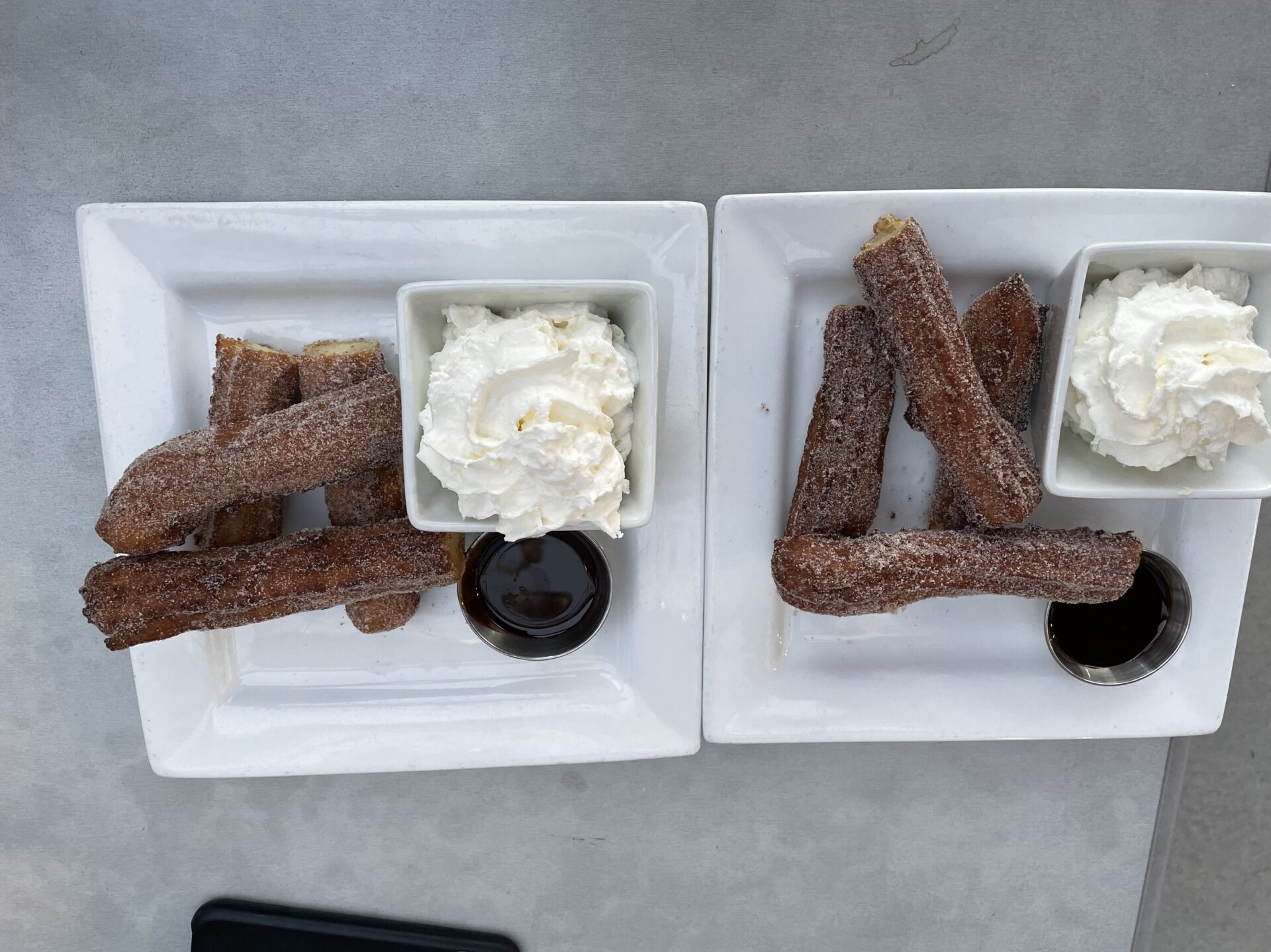 Settebello Pizzeria: Any time I find great pizza when traveling I feel happy. They also had a great GF pizza for my dining partners. pictured below is the wonderful beet salad. #settebellopizzeria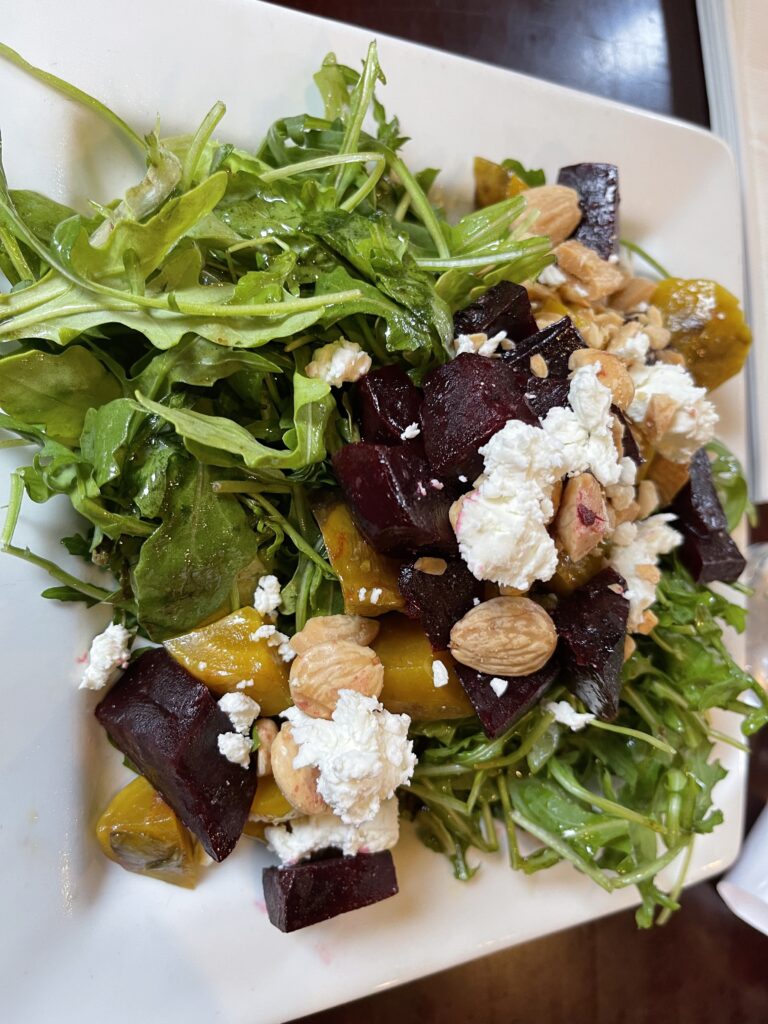 Good Food Gluten free bakery: While I am not in need of Gluten Free, when you travel with others who are, you feel great when you find something special. The cinnamon rolls were the real deal (I ate the whole thing), The savory rolls also were amazing. #goodfoodglutenfree #goodfoodglutenfreebakery
Moab, Utah
Cowboy Grill: Located in the Red Cliffs Lodge along the Colorado River. The view from the patio was worth our 30 minute wait to shift our reservation from the dinning room to the patio. I had rainbow trout, it was simple with mashed potatoes, gravy and a mix of summer squash, and it was right. The setting was relaxing and just what we needed after a day on the river. #redcliffslodge #moabutah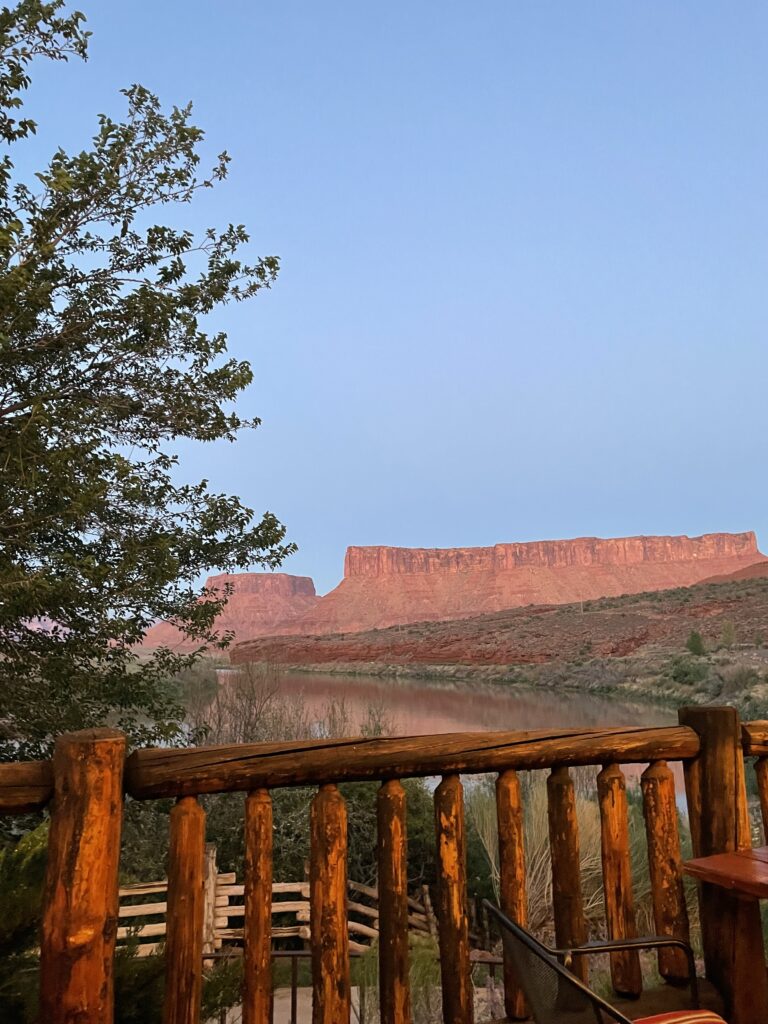 Arches Thai: Perhaps my favorite meal of the trip, this little tucked away gem was a hit. The Pad Thai was amazing, the Som Tum salad was excellent and the pineapple and scallop curry was both beautiful and spectacularly delicious. A great restaurant for sure, we had happiness over the brim. #archesthai #moab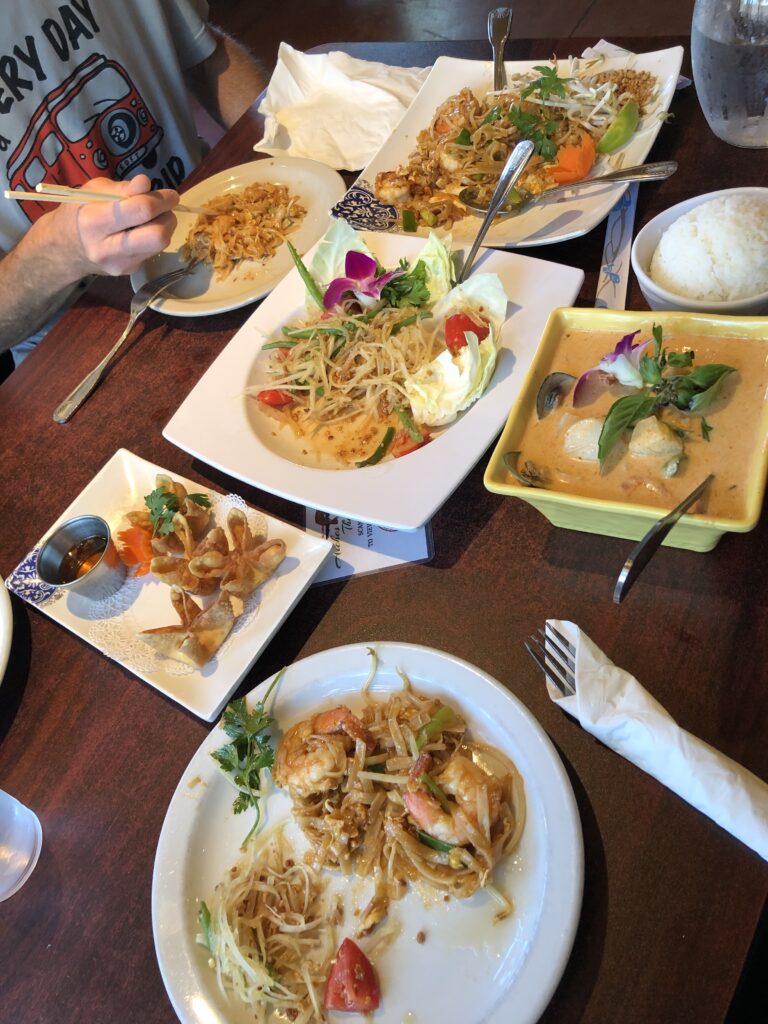 ANTICA FORMA: Another great pizza find. We secured a seat on the patio and just loved our pies. The gluten free crowd went back for lunch on another day. #anticaforma #anticaformamoab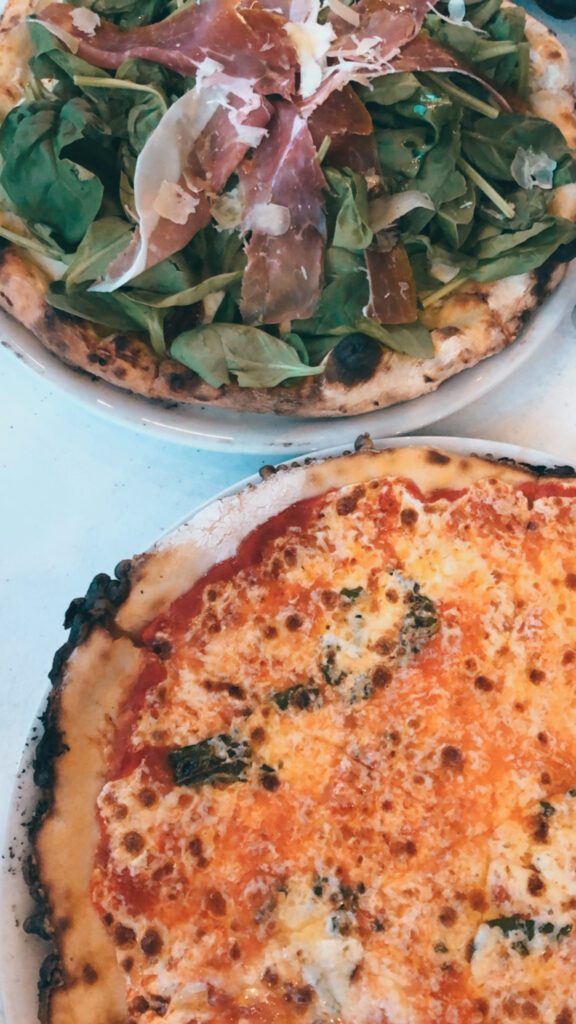 The Spoke on Center: Burgers are the name of game here, everyone was happy with their Spoke burger selections. I had Salmon, and it was actually a Salmon fillet, it was delicious and my side of Sweet potato tots rounded out a fun meal. #thespokeoncenter
Springdale, Utah
The Spotted Dog Cafe: We loved our first night here, so we came back a second time with equal results. Entrees that we loved were the Braised Lamb Shank Cedar Mountain style, with Bordelaise sauce mushrooms, fingerling potatoes & seasonal vegetables (asparagus). Southwest Chicken Breast with avocado and mango salsa over wild rice and asparagus. My favorite was the Red Trout which was pepita encrusted with wild and brown rice, field greens and blackberries. The buzzing hummingbirds on the patio add to one of the best restaurants near Zion, a happy experience for sure. #flanigansinn #thespotteddogcafe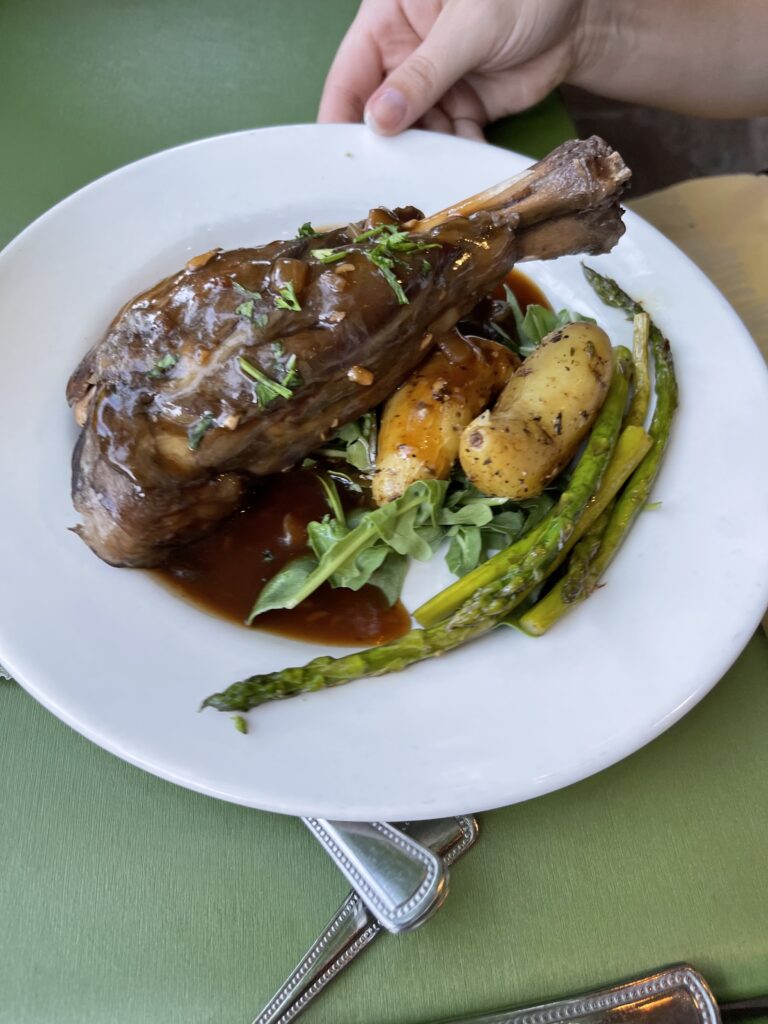 Cafe Soleil: We had a late lunch after a day of biking around Zion National Park. There was still a line and we were really hungry, but my daughter had heard great things about them so we patiently waited our turn. The staff was helpful and friendly, and the Panini sandwiches were fantastic. I enjoyed the Tuscan Tuna melt. #cafesoleilzion
Las Vegas, Neveda
China Poblano: This stop at the Cosmopolitan Hotel has become a regular stop for me. Celebrity Chef Jose Andres who runs so many of the best restaurants across the globe, brings two food types side by side. DimSum and Noodles or Tacos and Guacamole. We arrived in Las Vegas at around 3:00 after squeezing in one last morning hike at Zion National Park. We were all hungry and ran in different directions to get lunch of our own choosing. I ran to China Poblano for a quick fish taco splurge. #lasvegas #chinapoblano
Bellagio Patisserie: I remember the first time I noticed the Bellagio Patisserie had replaced the legendary Jean Philippe Patisserie at the Bellagio. I was crushed Jean Phillippe brought some of the best pastries in America to the Las Vegas strip, and I made the journey to enrich my soul with these delights every trip to Vegas. I still make the trip to Bellagio Patisserie when I go to the Bellagio Conservatory and Botanical Gardens. The patisserie still has the enormous chocolate fountain, and I find some delicious pastries. After all it is a package deal with me. #bellagio #vegas
Emeril's New Orleans Fish House: I still love going to Emeril's. There are so many things that are just so right for me. I love their cornbread, it is special, and as I have already mentioned I have an affinity for bread pudding, and they hit it out of the park. Everything in between is also great, but I come for the opening and closing acts. When looking for the best restaurants at the MGM I am always happy when I leave Emreril's. #emerils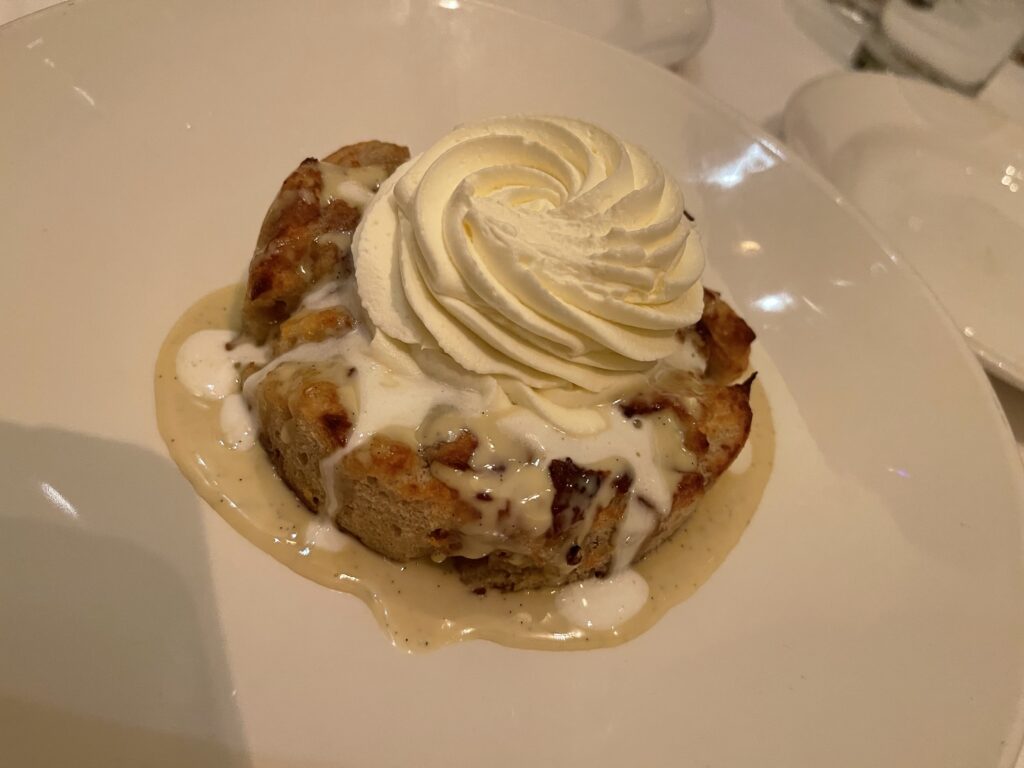 The Egg & I: Sometimes while in Vegas you have to get away from the strip. I find heading out to Red Rocks Canyon National Conservation area, provides a great relief from the bright lights of Vegas, it is also pretty spectacular. On the way to Red Rocks we stopped at the franchise The Egg & I for breakfast. They were packed and we had to wait about 45 minutes for a table on their covered patio (with the misting machines-I love that). My Gluten Free companions felt like rock stars with the Egg & I's attention to their needs. We enjoyed our breakfast and were loaded up for our trip to Red Rocks. #theeggandi
Spago: I always wanted to dine at Spago's Bellagio location, and always seemed to get sidetracked to other establishments. I did not just want to eat at Spago as I have dined at other locations. I wanted to dine on their patio overlooking the Bellagio fountains. We scored a table at the patio for our last night in Vegas. The meal was great, but watching the fountains from our table was worth the price of admission. A where to dine must in Vegas, and lots of happy faces! #spago #spagolasvegas
Bishop, California
Erick Schat's Bakkery: My friend Matt and I stayed in Bishop to get closer to our planned hike at Boundary Peak, the highpoint in Nevada the next day. We hit the jackpot with Erick Schat's Bakkery. I was like a kid in a candy store. So many different types of breads, fresh pastries, everything I would need for my hike the next day. They even had fresh squeezed Orange juice that I brought back to my hotel (it had a mini fridge) for breakfast. I purchased a cinnamon roll with raisins for that evening's dessert, which I happily consumed in the hotel room later that evening. My bread of choice was energy bread (because I was sure I was going to need some on my hike the next day), and made three sandwiches to stuff in my backpack. #bishopcalifornia #erickschatsbakkery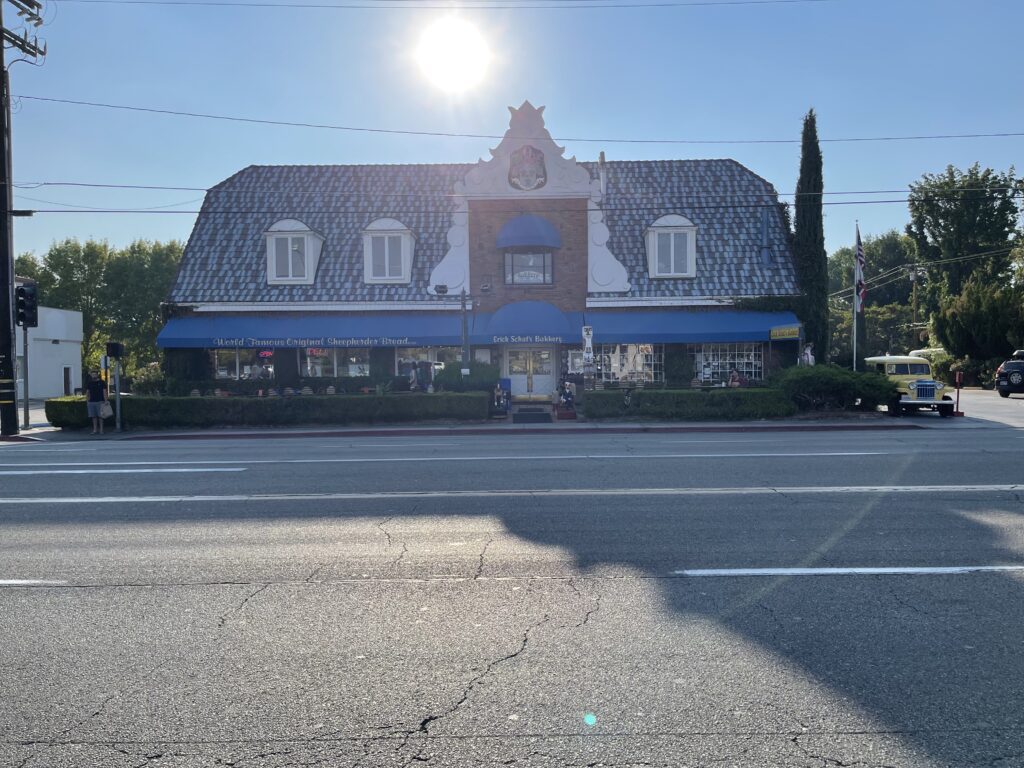 Henderson, Neveda
Settebello Pizzeria: The five hour ride back to Vegas from Boundary Peak was not enough time in the car, so I decided to get out of Vegas and head east and get a jump on my next stop. I pulled off the highway in Henderson, when I saw a big shopping Center, while stopped at the traffic light to turn into the Center I saw a sign for Settebello, remembering the name from our Salt Lake City experience, I pulled in and ordered a Margarita Pizza to go. Turns out Settebello is a small chain with five locations in Utah, Nevada and California. The pizza was great again and was the perfect compliment to make my evening ride that much better. #henderson
Yukon, Oklahoma
Braum's: I pulled off Interstate 40 to a sign welcoming me to Yukon, the home of Garth Brooks, and saw the Braum's Ice Cream logo. It was time for a little snack. I was not familiar with Braum's, but later found out it is a huge chain of 280 locations. Serving to the masses. I did not have a desire to have a meal I was just in it for the Ice Cream. I prefer frozen yogurt (Hard packed if possible), their frozen yogurt was soft serve, I gave it a try. It was a big waffle cone, and it cost $1.09. In the Northeast you get nothing for $1.09. I enjoyed that cone so much, driving down the highway with such a bargain! Braum's makes my list for that great feeling I had that I actually purchased something of substance for $1.09. #yukonok #braums
Hot Springs, Arkansas
Eden at Hotel Hale: I wanted to dine on Bathhouse Row at Hot Springs National Park, in one of the original bath houses. Hotel Hale occupies one of these bathhouses. I chose to eat at their restaurant Eden. Set below a wall of plants and skylights.
I was happy to sit and admire the lovely setting. The food was excellent. I had the Forbidden Fruit salad to start. Essentially this was a roasted beet salad, with cinnamon poached apples, goat cheese, sliced Almonds and an apricot vinaigrette. But set in Eden the clever name of forbidden fruit was cute. The focaccia was really good and I just started enjoying it, when my salad was delivered. Already confused as to where my allegiances were aligned, they brought my Salmon (Pineapple honey glazed on wild rice with balsamic and parmesan brussel sprouts). I ordered the caramel cake to take back to my hotel room, it was better than fantastic.
One of the best restaurants in the area, I would request more spacing between courses, next time. #hotspringsarkansas
Mt. Magazine State Park Paris, Arkansas
Skycrest Restaurant at The Lodge at Mt. Magazine: The lodge is set just below the high point of Arkansas, and for that reason alone I was going to have lunch at the Skycrest. The very large floor to ceiling windows overlooking the fantastic forests, hills and mountains of Arkansas was the perfect setting for my pre-hike meal. The Skycrest is a buffet style restaurant, and I loaded up with all they had to offer. I was happy with the comfort food and loved that they required each diner to put on sanitary gloves before handling the utensils of the buffet. My window seat was perfect. I was in a happy place. I left happy and can conclude it is the best restaurant on Mt. Magazine. #arkansas #highpointersclub #mtmagazine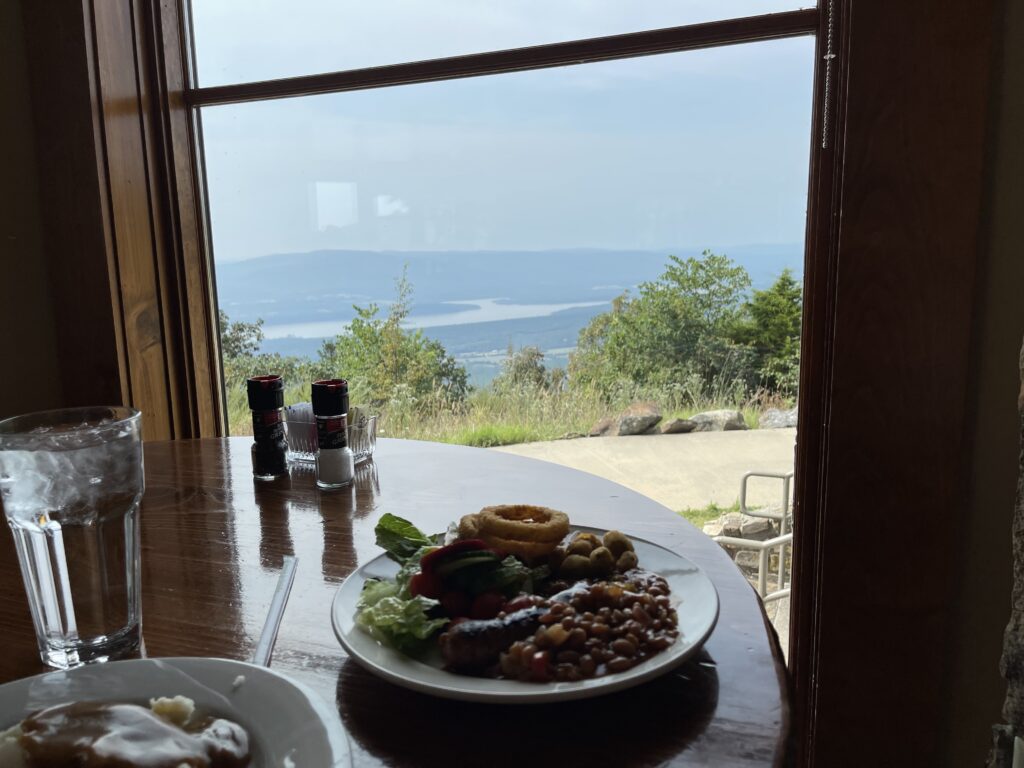 Poplar Bluff, Missouri
IMO's Pizza: The fact that this IMO's was located in a Rhodes Gas Station convenience store should put a pause to everyone reading this. However, I had a great experience. IMO's is a big chain from the St. Louis area with 99 locations. As such, I needed to try it. When I asked the General Manager to tell me a little about IMO's, he was just terrific and I settled on a veggie pizza. He even explained what Provel cheese is (the St. Louis pizza blend that is a processed blend of Swiss, Provolone and cheddar cheeses). Remember, I said I like all types of pizza, and while this pie is different from a Neopolitan pizza, or maybe does not rank with the top pizza joints across the country. I loved it and was happy I decided to try it. #poplarbluff #imospizza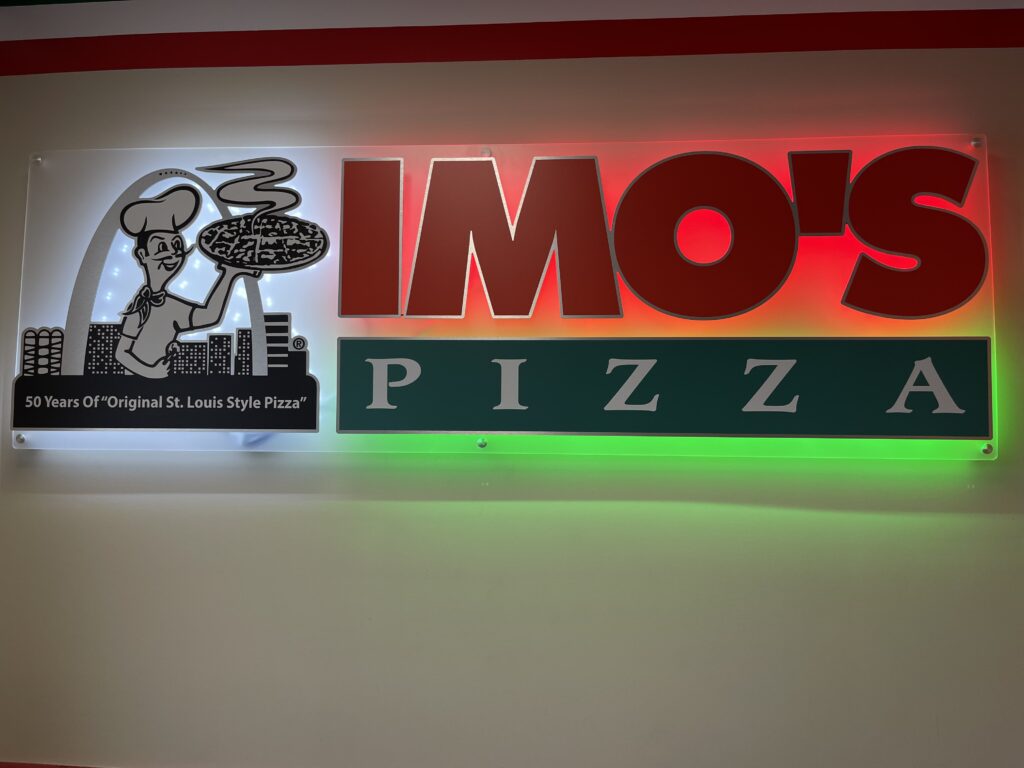 St. Louis, Missouri
Hi Pointe Burgers & Fries: Right around the corner from my hotel, I was giving this place the once over, back and forth, looking in the window, checking out the menu, before I finally decided to go in and give it a shot. I know a little about burgers & fries, as we are the owners of the New England Region for a fantastic burger chain MOOYAH Burgers, Fries & Shakes. We use certified Angus Beef and make our buns in house. We deliver a great fast casual product. So, I hesitate heading into a burger place.
Once I finally walked through the doors, I decided to get the Salmon BLT sandwich with fried green tomatoes, chili mango aioli & bacon on hearty wheat berry bread. The sandwich was delicious (of course it was, it had bacon on it), I set out to burn off that bacon and fried green tomatoes, so off I went for a walk around the grounds of Gateway Arch National Park. #hipointedrivein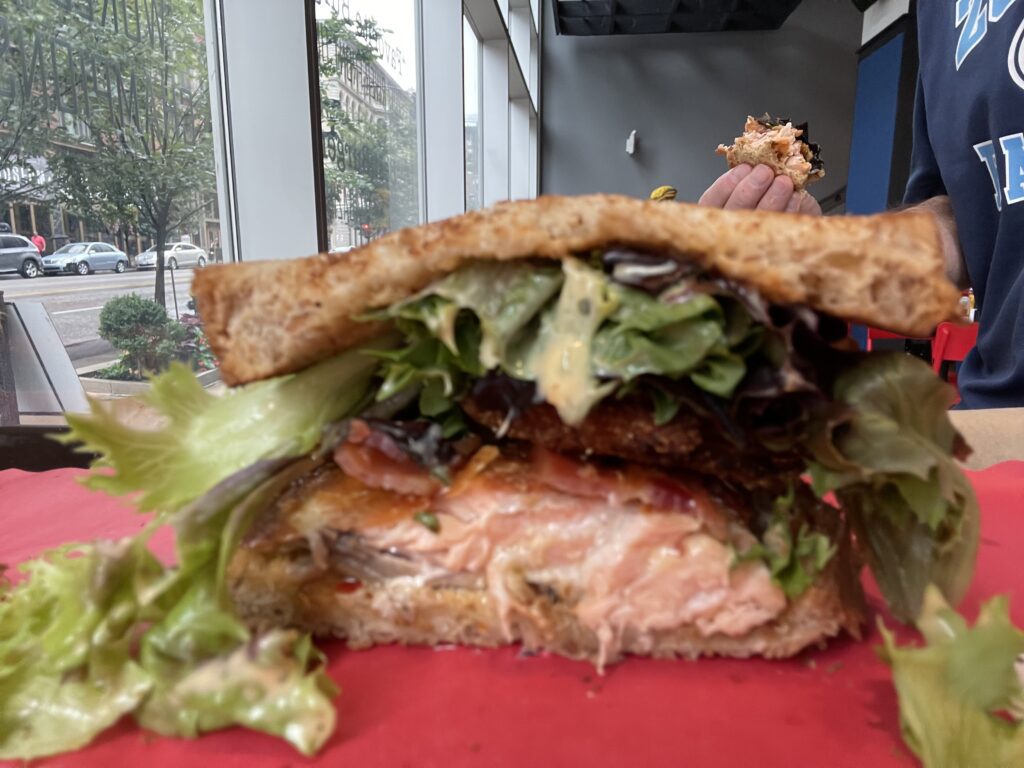 City Foundry STL Food Hall: I love how the food court idea has been elevated to Food Hall status. The concept was good to start with, the quality just needed improvements. Already a fan of Food Halls in New York and Plano, Texas I needed to check out City Foundry which had just opened a short while before I cruised into town. Of course I would like to try every place (but I did not prepare properly with an all-day work out), so I had to make my choices.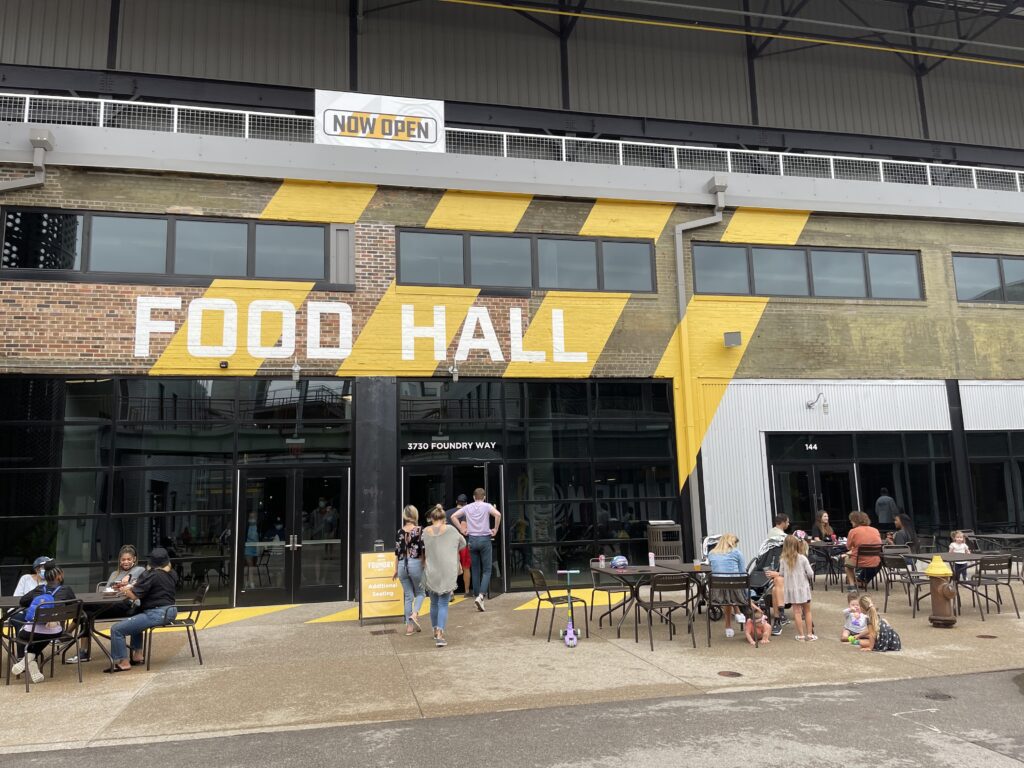 I decided to try Kalbi Taco Shack which is Asian Mexican fusion. Well, I thought, I love the idea of blending cultures and tastes, so bring it on. BOOM, winner. For dessert I went to Press Waffle Company, and went big with Belgian waffles loaded with Strawberries, Bananas, Whipped cream, and caramel sauce. Satisfied and happy, I still felt sad that I did not have time to try more of the offerings. #stlouis #cityfoundrystl #presswaffleco #kalbitacoshack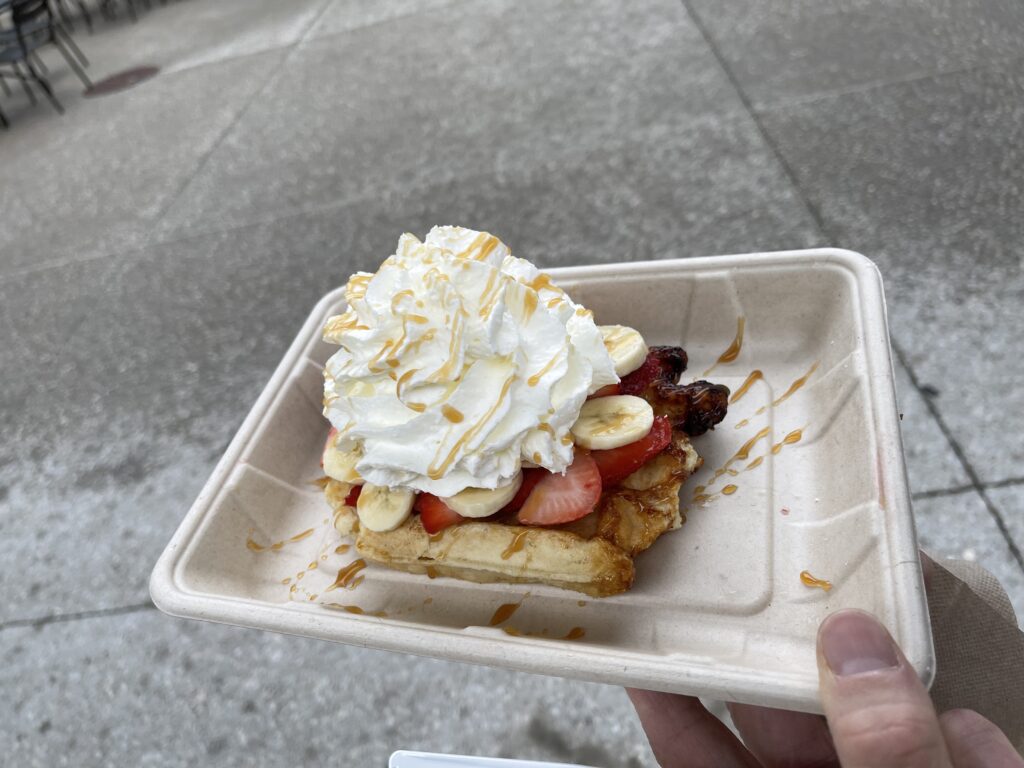 Sauce on the Side: After my experience at City Food Foundry, I drove back into the city to my hotel. I decided I needed to burn off the indulgences from the food hall visit and I also wanted to check out Busch Stadium, and added another walk on the grounds of Gateway Arch National Park, and finally back to the hotel and found my way to the hotel gym.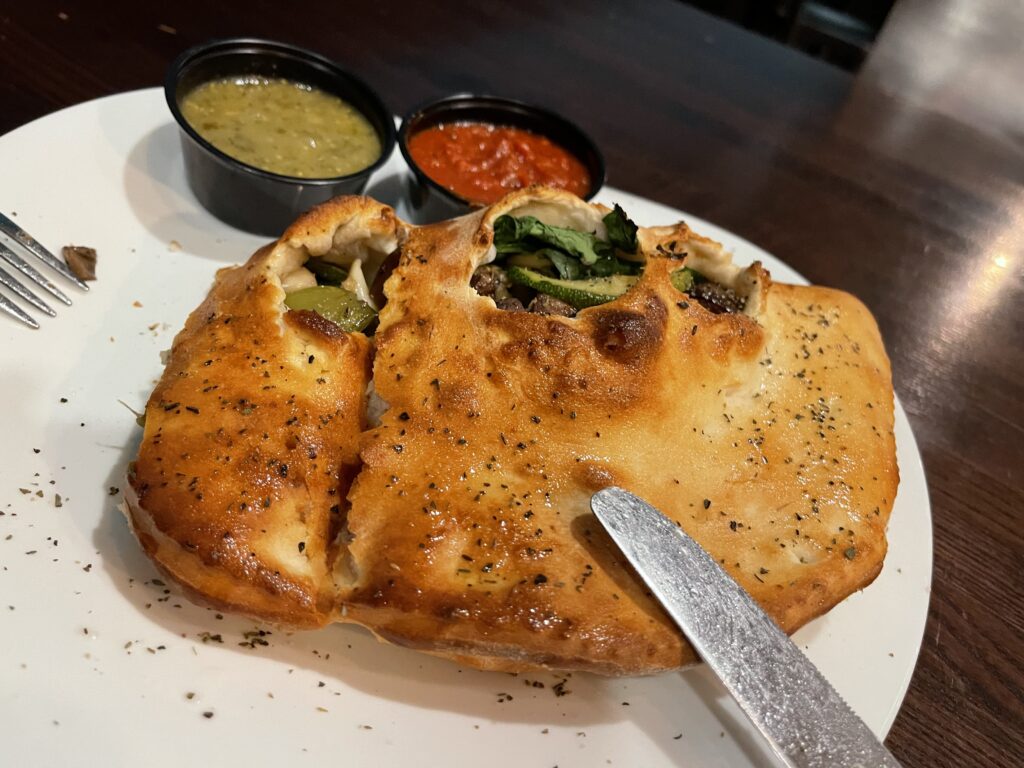 After my workout, I was hungry again. I went looking for another meal. I stumbled upon Sauce on the Side. Calzones of all kinds, with your choice of sauces. I chose the Garden with Balsamic Eggplant, spinach, zucchini, roasted garlic, white onions, snow peas, and garlic oil. With the house red and salsa verde as my sauce. I thought this is a great fast casual concept, they can probably franchise this. Turns out they already are, with 7 locations in Missouri and two in Indiana they are on their way. #sauceontheside
Rooster: I met friends for breakfast at the Rooster downtown location on my last day in St. Louis. I chose homemade granola with yogurt and berries. When I see house made granola on the menu, I have to try it. Everyone's interpretation is different; it is always like getting a surprise package to open. I loved their version. That was the healthy part of the meal, next I opted for Biscuits and Gravy. Ever since my first trip south when I was playing college baseball I have had a thing for biscuits and gravy. Their version was okay, I broke up the order so I could try their biscuits with jam as well. Overall a cool place with a great vibe. #roosterstl
West Chester, Ohio
El Trompo Mexican Grill: This place is always busy, we scored an early lunch table on the patio. The salsas with chips were great and my fish entree was everything I hoped it would be. #westchesterohio
Skyline Chili: You know what they say? "When in Rome", so when in Cincinnati I must have one Cheese Coney. And they are delicious. Small hot dogs in a steamed bun, with mustard, chipped onions, and their special chilli. I asked for less than the normal mound of cheese. #skylinechili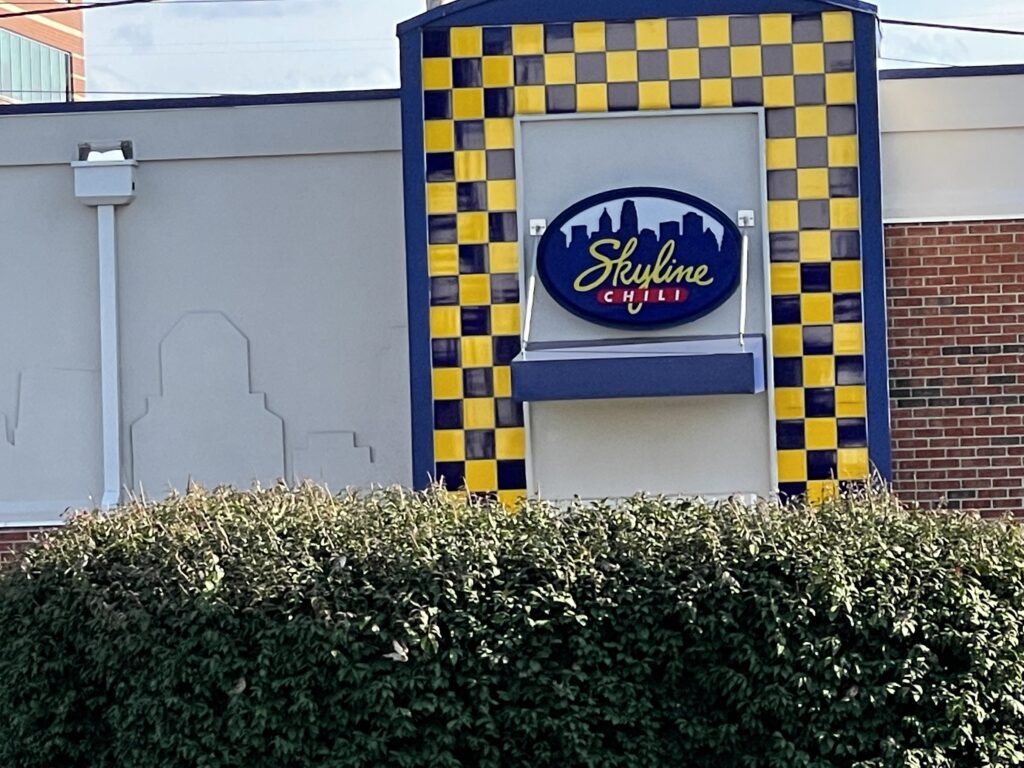 Mason, Ohio
Two Cities Pizza Co: A very cool concept. The two cities are New York for their thin crust pizza and Chicago and its famous deep dish. Everything is themed toward these two cities, like the cab parked on the street next to the restaurant, and the subway (bathroom) inside. We scored a great table outside on this lovely summer evening. Of course we went for both the New York and Chicago pizzas and they were terrific. #masonohio #twocitiespizza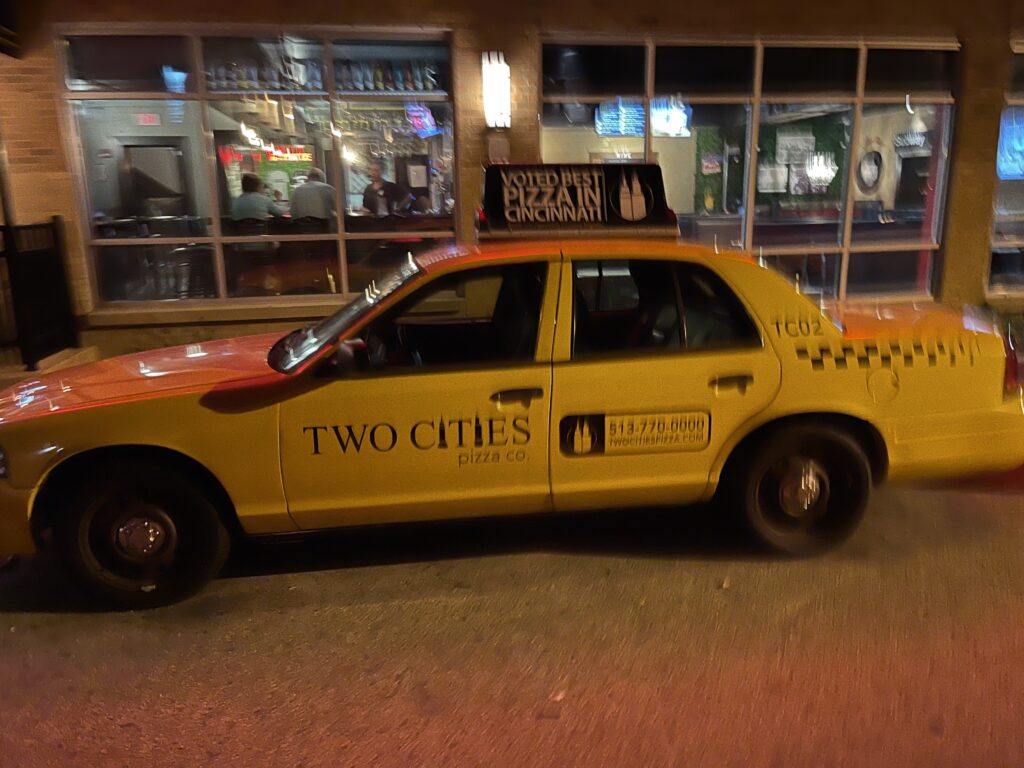 Worcester, Massachusetts
Fatima's Cafe: East African food with love. That is the best way to describe Fatima's cafe. I felt transported to Fatima's kitchen. Soaking up the veggie stews with flat sour dough bread is happiness all around. #worcesterma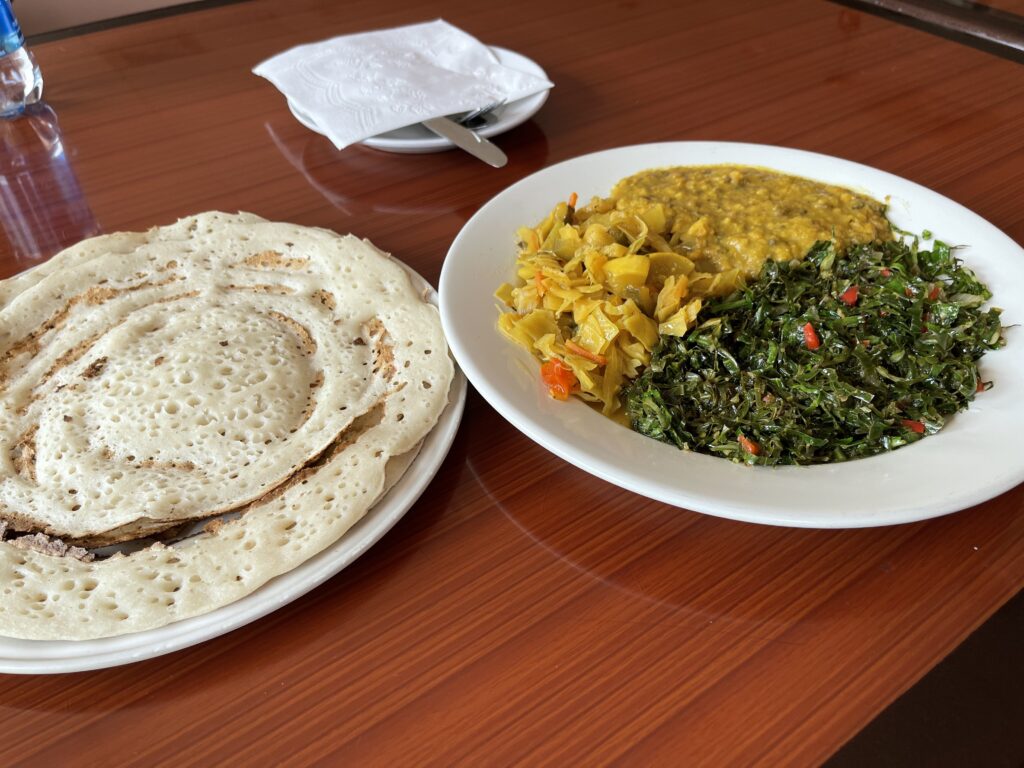 Even more great restaurants?
Check out chapter 16 Taste Bud Bonanza for more great food suggestions EVERYDAYISAFIELDTRIP.COM
There you have it, this summer's Taste of America. My where to dine list of best restaurants for a multitude of reasons. I hope you enjoy a great meal today, tomorrow and every day.
Where are you eating today? Share some photos with us from your experience Instagram
Please join our https://www.facebook.com/groups/436947914091617 to share your field trips, and learn what others are doing to find a field trip every day.
For more posts from EVERY DAY IS A FIELD TRIP